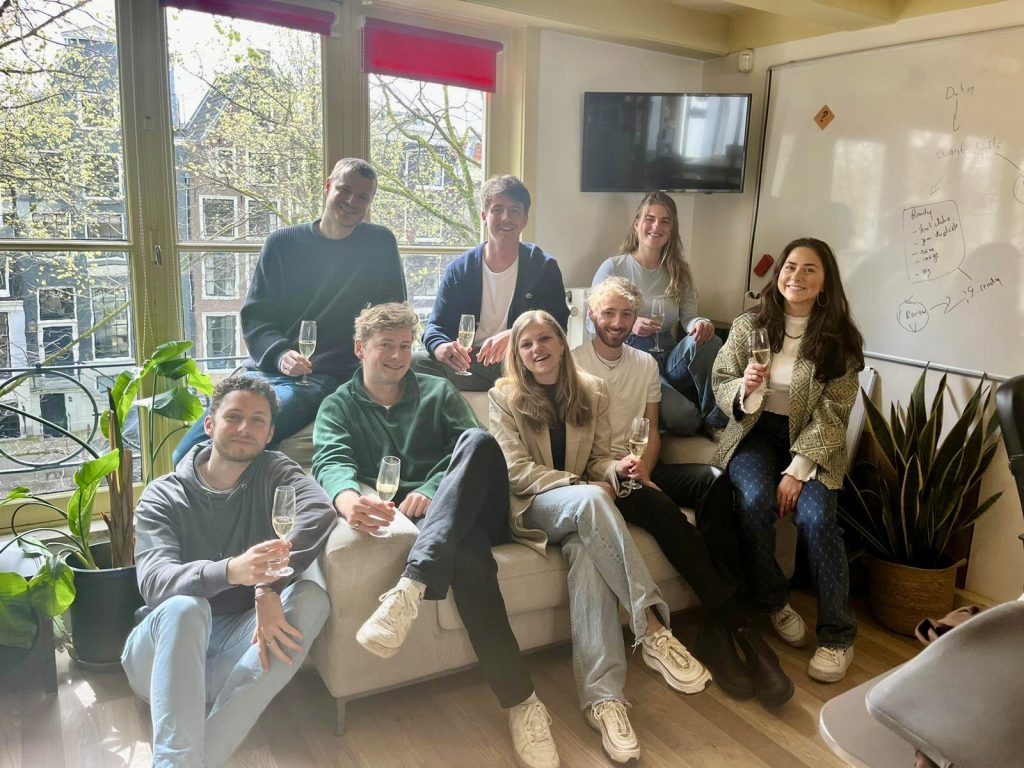 In an interview with Joris Oudejans, CEO of BASH, he discusses the company's journey from its inception with two friends during their bachelor's degree to its development into a platform for discovering and organizing events. He emphasizes their focus on user growth, personalized event recommendations, and plans for future development and investments.
A Dutch version of this article can be read on the website of our partner: Emerce.
Joris, how did BASH start?
"Four to five years ago, we started with two friends with whom I had already founded two companies during my bachelor's degree: an agency for placing students in app and web development projects and a peer-to-peer payment app called Strape. We launched Strape in Delft and later sold it to OK. After our bachelor's, we all decided to pursue master's degrees. Before that, the idea of creating a platform that functions like a 'Tikkie for events' emerged."
How did you come up with that idea?
"Facebook was losing its appeal as an events platform, and we saw this as an opportunity. For two years, we worked on this idea alongside our studies and other jobs, building prototypes and testing concepts in our spare time. After we began to gain traction, we expanded our team with experts in marketing, operations, and data science. After about two years of intensive validation, we decided to focus entirely on private events. However, shortly thereafter, in March 2020, we faced the challenges of the Covid-19 pandemic, which forced us to remain flexible and try alternative approaches."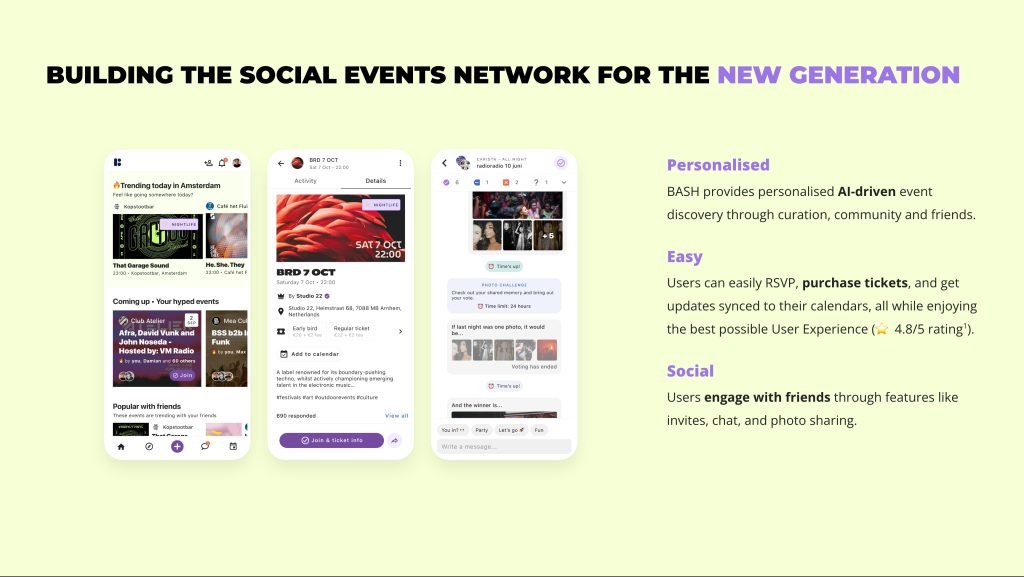 And where do you stand now?
"Now, over the past year, we have built enough traction to focus on growth. We are working on the proposition 'Your Kind of Party,' with personalization of public events based on user interactions and friend activities. After finding an event to attend, there is still the option to invite friends and chat with them to coordinate everything. In short, our journey has led to a validated growth model. Now, we are investing in marketing and further product development, particularly aimed at improving the social features within the app, to sustainably continue growing."
Besides discovering public events, can you also organize your own private events and invite people?
"Absolutely, that's exactly where we are now. We have a validated growth model and revenue model, as well as robust technologies. Looking at the user journey, over the past six months, we have emphasized discovering events, which works well because people are looking for apps to do that. Through the app, they can easily find events to attend, invite friends, and chat together during those events.
Our next big step is to significantly expand that chat functionality to make it as socially appealing as possible. Ultimately, it's about engagement because that's what we want to achieve as an app so that people keep coming back. We see that people are posting many events on the app, which in turn leads to the use of other parts of the app. This way, we keep people constantly discovering and attending new events, and that is ultimately our goal and the way we can grow sustainably."
What would be the ideal future version of the product for you?
"I think there are four axes on which we are currently developing. One is how we list public events on the app. We do this with an AI Scraping System from the web. It's a quite advanced bot that also uses ChatGPT to ensure that we can find as many events as possible. We want to expand this further so that we can scale it worldwide. Right now, we are only focusing on Amsterdam in terms of marketing, but the rest of the Netherlands is already on it.
The second axis is to improve recommendations. So, what AI recommendation system you can use depends on several factors: how much usage you have, how much interaction there is, how much content there is, how many details you know about that content. The more data we get, the better we can build that AI recommendation system and use various technologies.
The third axis is our revenue model. Currently, we don't generate revenue because, with an app like BASH, you first need a certain network saturation and critical mass within the network. However, we have validated the revenue model we have in mind. We've run a few pilots with organizers in Amsterdam who are eager to promote their events, so we've found that it works. Starting from October, we will generate our first revenue, and early next year, we will break even."
And the fourth axis for further development?
"The fourth is the social features, and that's really the most fun to work on. Ultimately, that will allow people to add all sorts of things to an event after they have attended it and share the stories of the event, which creates a fun, social aspect. There's a lot we can do with that, and it will ultimately lead to stronger network effects, which will improve people's event experiences and, therefore, help with our growth."
And you are currently looking for a funding round; can you tell us about that?
"What we have validated so far is that we can acquire people relatively cheaply through social ads; we see high retention on the discovery proposition. These two things together, with marketing spend on social ads, allow us to grow rapidly, so we are primarily raising money for that purpose, and secondarily for the development of the axes I mentioned. When we look at the most important aspect of that, it is implementing the revenue model, which will set us up for an even larger round in the future.
If we validate that revenue model and confirm that we are seeing network effects at a larger scale, then we can scale rapidly beyond the Netherlands. What's also nice is that we don't need to hire additional people; our team is ready to go. We are already in the process of closing the round."
What kind of investors are you looking for in general?
"Our ideal investors are entrepreneurs with experience in scaling companies, as that's the phase we are currently in. We already have backing from entrepreneurs like Sjuul Berden (United Wardrobe), Quinten Selhorst (Felyx), Niels van Deuren (HousingAnywhere), and Leon Ramakers (Mojo).
What we are ultimately doing with the platform is connecting organizers, recognizable by the verified badge, with their guests. That's also pretty cool because when they are on the platform, they can communicate about the event but also promote their own events. The more users we have, the more organizers are interested in joining the platform, so that's also something we are growing toward."
More information about Bash for investors can be found here.