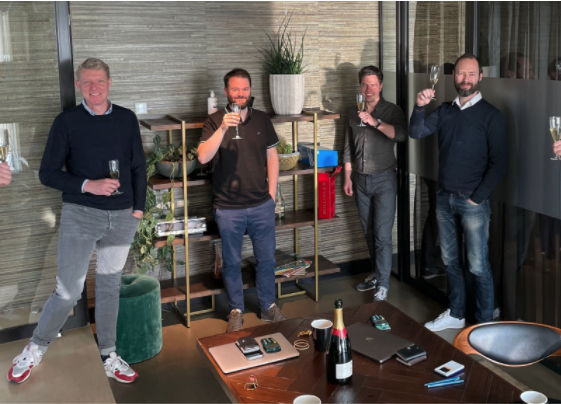 This week we interviewed Jeroen Thijs of Secondstage Ventures and Leen de Graaf, founder of Cuurios, a startup with the ambition to become the market leader in data-to-action solutions.
They found each other on Fundsup.
Hi Jeroen, who is behind Secondstage Ventures?
Jeroen: Remco (van Blitterswijk) and I were once colleagues, but we know each other mainly as good friends, and from the countless motorcycle trips we've taken together in recent years. We had a hundred thousand ideas since the beginning of our friendship, but it was never the right time. Either Remco had just started a new venture or I was working on a new business. But last January, it all fit together perfectly.
We both have an extensive track record as entrepreneurial investors or investing entrepreneurs. Remco pulled several innovative IT clubs out of the ground in a highly competitive playing field and sold them to private equity after an exponential scaling phase. He has also made investments and mentored startups along the way. Together with an associate in the tech and high tech domain, I have made multiple acquisitions, made them bigger and sold them again. We also founded an incubator, from which a successful scaleup emerged.
This experience pays off in our discussions with founders. We can immediately respond to challenges and think along with crucial choices.
Hi Leen, who are you and what exactly does Cuurios do?
Leen: Gaëtan and I founded Cuurios three years ago and we've known each other for about ten years. Our eldest children were born a few days apart and our partners went to maternity classes together, so that creates a bond! We both have a passion for software technology and that's how the idea for this wonderful Cuurios adventure was born.
Our software allows enterprise customers to automatically translate their data into concrete actions. We replace an entire chain of Excel sheets, e-mail messages and text messages. The efficiency that results in surprising our clients again and again. And us too, for that matter!
Engineers can also develop their own algorithms and workflows or configure standard elements as they see fit. This has already allowed our customers to avoid multiple production stops, by making smarter use of existing assets and production data.
You guys met at Fundsup. How did those first chats / conversations go?
Jeroen: Initially, you can be quite overwhelmed by a large number of startups. Cuurios had our attention because of the complex industry they serve with a clear B2B focus. But more important was the first contact. After the pitch via zoom and the conversation afterwards, it was a no brainer for us. These are superstars in the making.
Leen: Our original plan was to use an innovation loan to complete the product development and thus prepare Cuurios for the first investment round in 2022. However, the very positive discussions with Jeroen and Remco led to the decision to adjust these plans and go straight for the investment. This gives us the opportunity to accelerate sooner. We are convinced that Secondstage Ventures has the right knowledge and experience to make that acceleration successful.
What made you decide to go into business with each other? What was the deciding factor?
Jeroen: The instant gut feeling. It just felt right. That is a very important factor. In a general sense, Remco and I trigger on three factors: business case, team and tech. As crazy as it sounds, we have a preference for "boring" propositions. Process improvement doesn't sound sexy, B2B usually doesn't either but we love it. The Founding team for us ideally already has the necessary work and life experience, is open-minded (this is a hard condition!) and preferably one of the founders has a strong tech profile. Cuurios scored 10 out of 10.
Leen: From the first moment, Gaëtan and I both had the feeling that this could be a good match. We understood each other, spoke the same language. The most important thing was a good basis of trust and the enthusiasm of Jeroen and Remco. This ensured a quick and extremely smooth process in the run-up to the investment.
What exactly do you expect from this collaboration this year?
Jeroen: We have already made a flying start with the strategic mapping. We function primarily as a sparring partner; our goal is to push the commercial side as well. Strategically, but also practically.
Leen: We are going to work together with a great deal of energy on scaling up Cuurios and we are eager to get going. Secondstage Ventures is involved at the right strategic level, gives us the freedom to do things, but is there when we need it.
Jeroen, how many conversations did you have with startups before you ended up at Cuurios?
Jeroen: In recent years Remco and I have spoken to dozens of them but within the framework of Secondstage about 10. And some of them more intensively than others. We've seen the maturity and quality of the startup landscape increase dramatically in recent years.
How is Secondstage ventures different from regular Investment Funds?
Jeroen: We step into a phase that falls exactly between the informals and the larger funds. It's really a sweet spot where the rough diamonds can be found. In this phase, only a hands-on fund with experienced entrepreneurs can offer added value. So, Secondstage!
Of course, we like to think along in strategic plans, but just as important is sparring on operational choices and helping with tech challenges, hiring staff, etc. We rely on our experience and network.
When has success been achieved for you?
Jeroen: When our joint exit is so successful that Leen and Gaetan can start a fund themselves! So that they can share their experience with the next generation. That seems like a great payoff to us.
Leen: Success for me starts within our team, being keen on our startup mentality: working hard, focusing on quality, listening well to our customers, having fun and celebrating our successes. I am convinced that success is a direct extension of that!
Best of luck!
Thanks, make sure to follow our next steps on Fundsup: https://api.fundsup.co/go/JPBy1JuInV