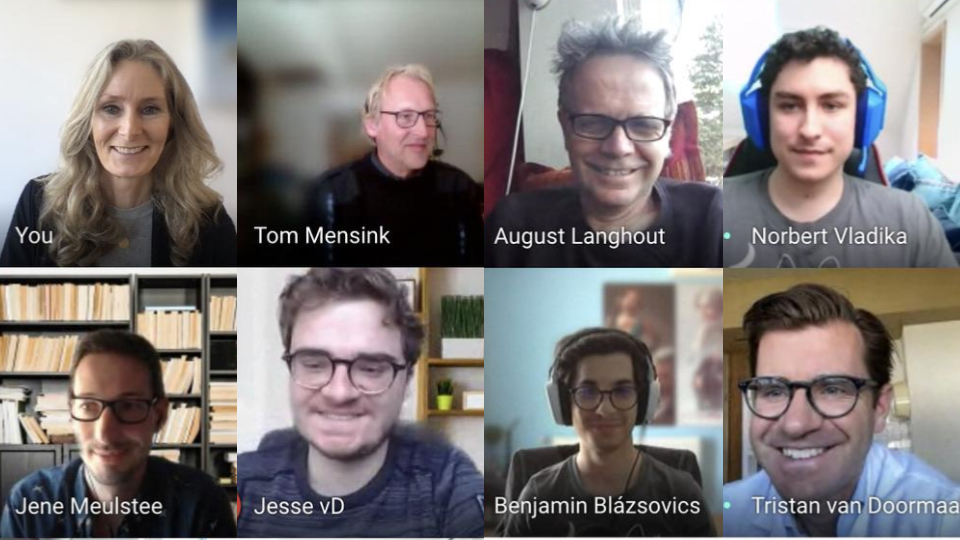 Every week we feature a new startup at Fundsup that forces a radical breakthrough. This time we chat with Claartje Ypma, CEO of Augmedit.
Claartje, what exactly are you doing?
Together with my partners Tristan van Doormaal (neurosurgeon) and Tom Mensink (software specialist), I founded Augmedit as a spin-off from UMC Utrecht, since we realized that Augmented Reality is the new frontier in medical imaging and will solve various problems surgeons and/or their teams encounter daily.
For them the world is still flat: they rely heavily on 2D imaging technology to operate on complex patient pathology and they must mentally translate these data into 3D to accurately plan and perform surgery. This is very difficult, inefficient and provides room for error.
Medical imaging has barely improved in the past decades, causing minor to deadly medical errors in 80% of operations as a result of lacking diagnoses and insufficient visual support; medical errors are still the 3rd cause of death in the United States.
We want to solve these problems and improve patient outcomes. Augmedit develops Augmented Reality (AR) applications for surgeons, by turning 2D scans (MRI / CT) into a 3D holographic experience. Within these holograms, using AI, we can fully automatically segment anatomical structures, such as tumours and blood vessels, so that doctors can see what they need to see. With these holograms, surgeons can better prepare for and perform surgeries, since 1 hologram is worth 1000 scans.
Augmedit harnesses Augmented Reality to improve surgical outcomes for patients and drive massive cost savings for medical institutions.
Where do you see its main application?
Our main focus is that our software will be used intra-operatively: the hologram is matched with great accuracy on the patient. And the surgeon wearing AR glasses (such as the HoloLens2) can use our intuitive clinical workflow as guidance for the surgery.
We start with the application in the neurosurgical space. Not just because this is where we originate from and there is a clinical need, but also because during neurosurgical procedures, the head of the patient is fixed in a clamp. Since the head cannot move, it makes it relatively easy to match a hologram on the patients' head. After that, we will move to orthopaedic surgery, plastic surgery and oncology surgery.
Apart from the intraoperative use, our software is also developed for surgical planning, training of residents and personnel, and for the education of patients. With our products, surgeons can see more, understand better and communicate easier.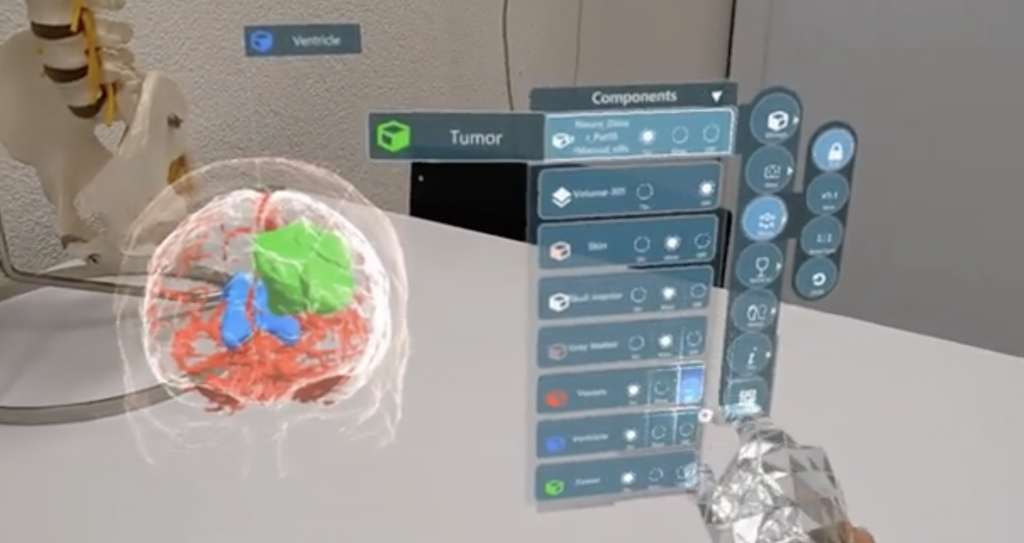 What is the impact of your business?
As I said before, up till today a large percentage of (neuro)surgical procedures result in complications, most of which are preventable with standard holographic preparation and navigation. Augmedit harnesses Augmented Reality to improve surgical outcomes for patients and drive massive cost savings for medical institutions.
The surgeons who have been using our product indicate that they can not believe they have been working without these holograms up till now. It provides them with so much more insight, they can zoom into the holograms so they can exactly see how e.g. the relationship is between a tumour and the surrounding tissue. Things they can not see on a regular CT/MRI scan are now visible within a few minutes from any angle they choose.
Also, research shows that patient satisfaction improves drastically by educating them through effective patient-clinician communication and shared decision making. Showing them a hologram instead of a black & white 2D scan helps them to fully understand their condition and surgical pathway.
Where do you stand right now?
Our 1st product for neurosurgical preparation, training and patient education is ready and will be Class 1 CE certified this month. Our first subscriptions have been sold and we leverage our vast network of Key Opinion Leaders in Europe and the US to start the sales.
Also, part of our product is the holographic cloud storage we uniquely built, where holograms (and 2D images) can be safely stored and manipulated and can be connected to hospitals' PAC systems. This is another business case in itself and the first subscriptions for this are being sold as well.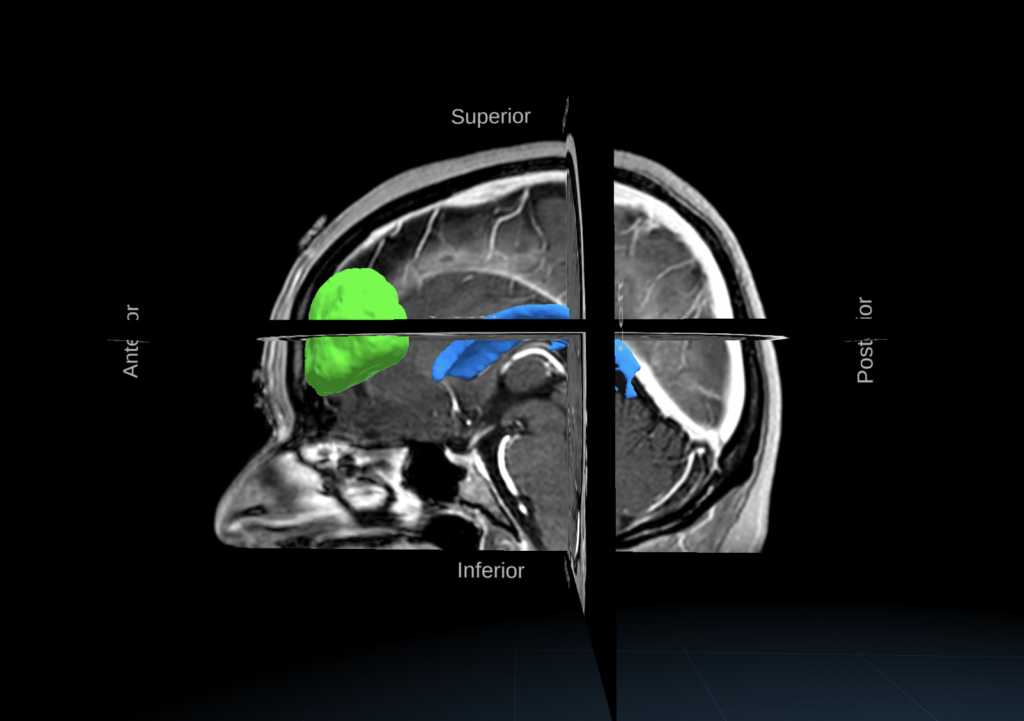 When are you planning to go to the market?
So we are just starting to enter the market for our preclinical product. After we close our funding round, we will expand our team with sales & marketing experts to ramp up to full commercial sales activities. We expect to have CE approval and enter the European market for the intraoperative neurosurgical product in Q2 2022.
Who has invested in Augmedit and how much are you currently raising?
In early 2020 we closed a seed funding round with a great mix of experienced Dutch and Swiss angels for an amount of €580.000. Since then we have been awarded a Eurostars grant (€260K) based on highly competitive selection and a Dutch MIT R&D grant (€110K).
We are now raising €2-€3M for further tech development, sales & marketing and regulatory compliance. With these funds, we will be able to obtain CE and FDA approval of our intraoperative neurosurgical product, expand our product portfolio to other specialisms and build a sales & marketing team.
What would be the ideal investor match?
Ideally, we are now looking for a combination of European based informal and formal investors, active in the field of Health IT and/or medical devices.
Please reach out to us on Fundsup if you are interested to join us on our exciting road to become the leader in medical Augmented Reality applications!
Best of luck with everything!
Thanks, check out our pitch deck in the Fundsup app: https://api.fundsup.co/go/-9YkaRFKtU