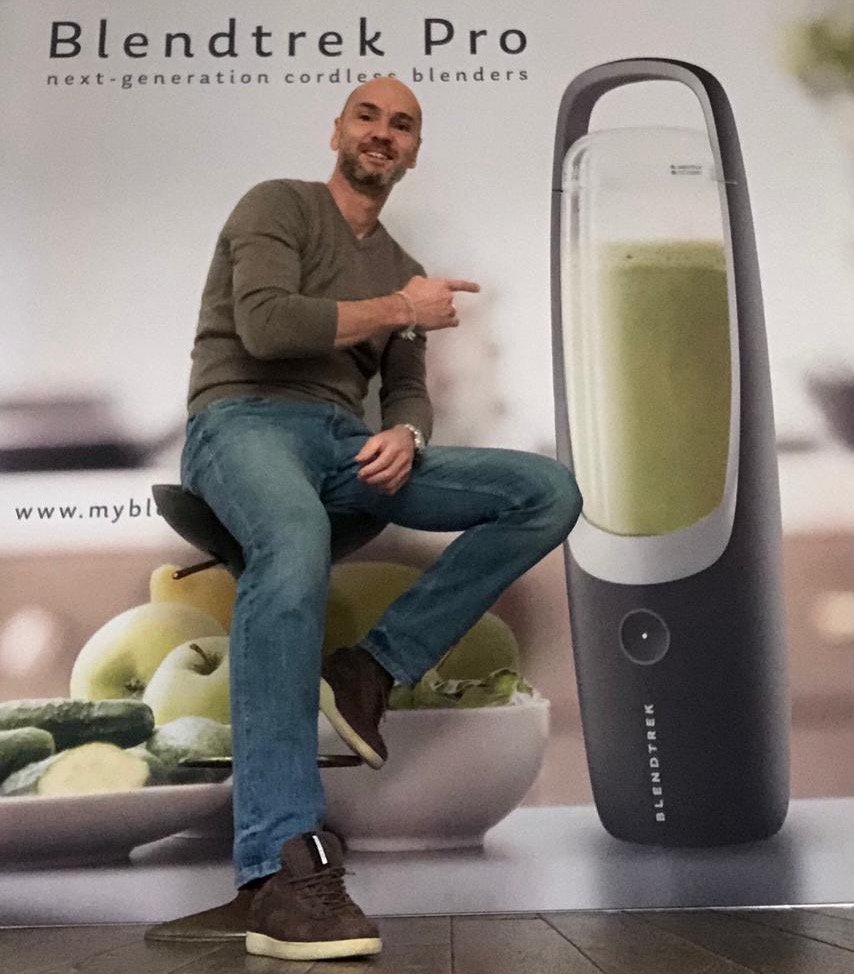 Every week we feature a new startup at Fundsup that forces a radical breakthrough. This time we chat with Jeroen Sluiter, Founder of Blendtrek International.
Jeroen, What exactly are you doing?
First of all, thank you for having me. So, what we are doing is quite exciting, as we are developing the world's first high-performance cordless blender capable of rivalling traditional blenders. Probably the best way to think about Blendtrek is to see us as the Dyson of the blender world. We envision the same potential in this emerging cordless blender category, share the same ambitions and aim for the same success.
Where do you see its main application/product-market-fit?
With Blendtrek Pro as our flagship model, we introduce a true next-generation blender, one that uniquely offers ease of use, performance and freedom of movement for the high-end market and professionals alike. It's an innovative alternative to traditional kitchen blenders, but also the only way we can turn the cordless blender category into a viable segment. Much like the way Tesla almost single-handedly catapulted a lacklustre Electric Vehicle category into orbit. Quite literally actually, if you recall.
From this premium blender, we will introduce two additional and distinctive models, the Blendtrek Hybrid and the Blendtrek Go, in support of our ambition to grow into an international lifestyle brand and full-fledged OEM chain partner.
"Ease of use, freedom of movement and performance are indispensable in a modern-day kitchen environment."
What is the impact of your business?
What social impact do you mean? Well, consider this: the World Health Organization reports that nearly 2 billion adults worldwide are overweight. These people are at greater risk of Type 2 diabetes, cardiovascular disease and other degenerative diseases. But equally more at risk for COVID-19 type viruses, as we have so dramatically seen since the outbreak of the pandemic.
Confronted with this stark reality, we see it as our mission to help 'Improve Health with Nutrition', by raising awareness about the important role fresh foods high in nutrients can play in improving our health. Making these foods more accessible, tasty and easy to use is what motivates us most.
This is why we are going to launch, in combination with our blenders, a unique food concept based on highly functional and nutritious blends, similar to the Nespresso business model. These blends will allow you to make fresh, delicious and healthy power-shakes in a heart-beat. All our blends will be made in the spirit of Paleo and Ketogenic principles and will be offered under license. I am very excited about that aspect of our business, as it will allow us to build personal and recurring relationships with our customers.
Where do you stand right now?
We have mostly finished our R&D and Proof of Concept on the Blendtrek Pro and the Blendtrek Hybrid and expect to be approximately six months away from being able to start producing and taking in our first commercial orders. In that sense now is the time to come aboard and become part of our team.
When are you planning to go to the market?
With that timeline in mind, we'd be looking at Q2 of next year.
Who has invested in you and what kind of investors are you looking for?
So far, we've been very fortunate to have been generously supported by informal investors and our developing partners, but now is the time to start reaching out to angel investors. We are looking for true believers who understand the necessity of combining premium power and portability with ground-breaking design to simplify our need for fresh healthy nutrition and help fight obesity and other lifestyle diseases.
Also, for this round we're introducing something extremely exciting, perhaps even unique; investors who join us in this pre-seed round do not only get a hefty conversion discount of 25% on Convertible Bonds, but they also get a unique Blendtrek NFT, a Crypto bond sealed in blockchain, created by our award-winning designer Ádam Miklosi. We will only offer 42 NFT's, each representing a store of value on its own, so basically you get two investments for the price of one. How exciting is that?
What would be the ideal investor match?
As you can tell, we are a very ambitious company and we really want to do this with equally ambitious investors. Of course, bringing in the background in consumer goods and lifestyle start-ups, or a network of potential distributors would be great. But frankly, I would love to welcome all folks who truly embrace the essence of our mission and vision; improving health with nutrition by trying to do something pretty bold; disrupting the small kitchen appliance market by becoming the Dyson of the blender world!
Best of luck with everything!
Thanks, check out our pitch deck in the Fundsup app: https://api.fundsup.co/go/KC3siR_9Ym