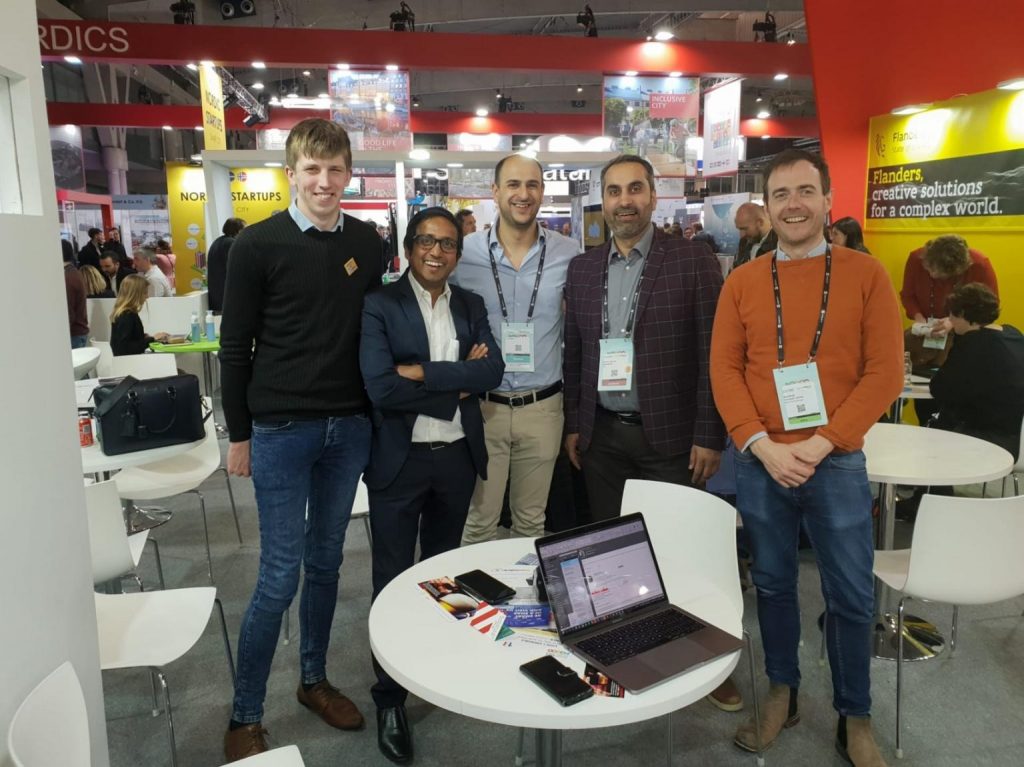 Every week we feature a new startup at Fundsup that forces a radical breakthrough. This time we chatted with Noman Ahmed, the Founder & CEO of BrighterBins.
Read the Dutch version on Emerce.
Noman, what exactly are you doing?
At BrighterBins we produce cost-effective smart sensors & AI-based routing platforms for waste pickup. Our smart sensors prevent overflowing bins, keeping cities clean and collect data enabling route optimization for waste pickup trucks. This means 40% cost savings, less heavy traffic, less CO2 emissions, and greener cities.
Where do you see its main application?
Bins are either picked up too early or too late. This is a waste of time, resources and money. There is too much CO2 emission due to unnecessary truck routes. Our customers are using BrighterBins to optimize their collections. Whether it is public waste in parks & streets or commercial waste in restaurants, offices, construction sites or factories, BrighterBins sensors and routing applications are helping our customers.
Our smart sensors prevent overflowing bins, keeping cities clean
What is the impact of your business?
Customers buy BrighterBins because of cost savings, but the same efficiencies that allow cost savings lead to sustainability and cleaner cities. Our core values support UNSDG 11 and 13. Our solution cuts the unnecessary routes and in many cases, our customers are able to reduce their fleet size. We prevent overflowing bins by generating alerts to the waste collectors creating cleaner cities and parks. We are flexible – BrighterBins discover new use cases multiple times a month. One example is our project with Fluves where our sensors are used to create a digital twin of waterways and water infrastructure in a city, warning cities of both droughts and floods.
How does IoT Bins Data add more value?
We are using the data from the smart sensors to create new insights and value with our clients, including the cities of Delft (The Netherlands), Sheffield (UK), Hasselt (BE) and many others.
Using A.I. we are able to predict when bins will need emptying, which further improves planning efficiency. We can detect also any anomalies and highlight changes in how citizens are moving around the city.
Does the solution only apply to public bins?
The public sector is large and many of our installations are in that area today. Through talking to municipalities and cities we have received important feedback on problems within waste management and that's something that we've brought into our work in the commercial waste sector. Commercial waste management is our largest focus at this point.
We are helping one of our customers in Belgium to collect waste oil from 75000 restaurants in Benelux, France and Germany more efficiently. This customer has a truck fleet of 200 trucks and they are targeting to reduce the fleet to 140 trucks with the help of BrighterBins. We are also doing a pilot project with a large construction company to optimize the construction waste.
Where do you stand right now?
We have more than 7000 sensors deployed in 15 countries. We have a proven product and business model that can scale in the fast-growing market.
When are you planning to go to the market?
We are already selling in the European market and entering the Nordic market with initial pilot projects getting deployed.
Who has invested in you and what kind of investors are you looking for?
We have raised €1.2 million in the last four years. We received two R&D grants from Vlaio, 150K from IMEC istart, 150K from Katapult Accelerator and 300K from PMV/KBC. We also invested €150K of our own money.
We have a commitment of €1 million from a UK based VC. We are looking for another investor to lead the hardware due diligence in this round.
What would be the ideal investor match?
An investor who dares to invest in solutions having a hardware component. An investor who can bring us sales and international reach.
Best of luck with everything!
Thanks, check out our pitch deck in the Fundsup app: https://api.fundsup.co/go/USqxAEqSP