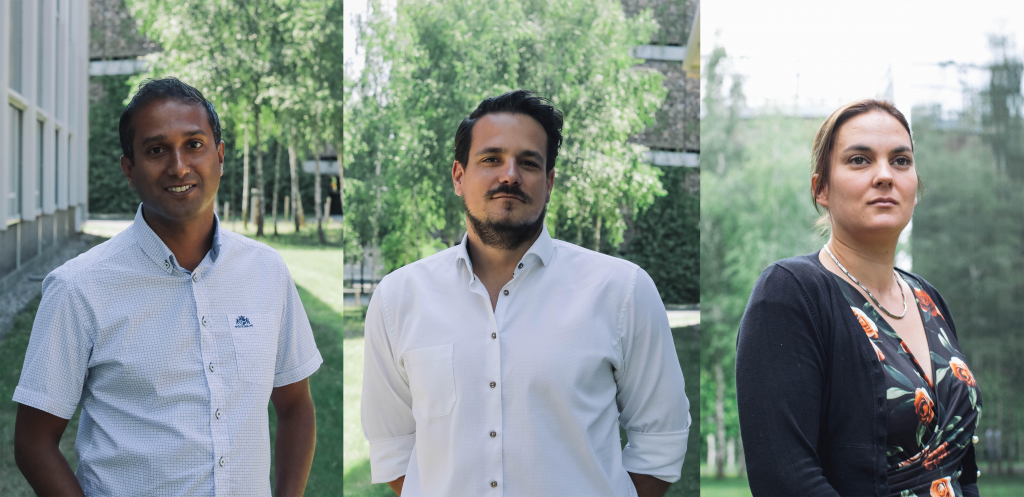 Every month we feature a new startup at Fundsup that forces a radical breakthrough. This time we chat with Kathy Vredeveldt, CFO of inPhocal.
Hi Kathy, what is the story behind InPhocal?
The inPhocal team is part of HighTechXL – a venture builder community that focuses on high-tech inventions in cooperation with well-known research institutes like ESA, CERN, and TNO.
This is the reason that a delegation visited CERN in 2019. They discussed the collaboration of various technologies. In order to not display all the secrets, they covered one of the inventions with a toilet roll tube. It was this technology that gave the inspiration to revolutionise the basis of laser technology and implement it in the various fields where it is already used or where it should be used.
What exactly are you doing?
We provide undeletable prints, currently focused on expiration dates, and batch codes. We do this with our first product. A marking printer that uses no ink, is faster than current marking machines and is capable of printing on uneven surfaces without losing quality.
"inPhocal improves the current optical technology that hasn't changed much in the last 400 years."
How do you do that? Can you explain your technology?
Our technique is capable of many things, mostly because we are faster and more precise. InPhocal has an optical system that improves laser technology at its core. Normal laser beams have a Gaussian distribution (it looks like a bell shape in a graph) and if you take a picture from the front you see an even circle with more intensity in the middle. With the inPhocal optical system this bell shape changes in a high burst distribution. If you make a picture from the front you would see rings. Something that greatly improves the current optical technology that hasn't changed much in the last 400 years.
Where do you see its main application?
We start with the marking printing machine because the technology of the printing devices itself has already been established, and it gives us the opportunity to generate sales. Revenue is one of the major trust factors for investors.
Our scale markets are in semiconductors for wafer dicing and chip marking. Our technology could be integrated into the current machines, but that road will need a lot of investment and several years of R&D. Realising this kind of investments without revenue would delay our Tech team too much, therefore our beachhead market is the laser marking printing for high volume food producers. This is a market that is willing to save on costs and gain from the improved production by use of our printer.
What is the impact of your business?
Our impact is on a lot of points as the technology changes the base:
Energy: faster laser marking means more efficient processes.
Against food spoilage: the expiration dates and the batch codes are fixed. Therefore they are unable to be tempered with. Also moist and temperature during transport and storage will have no influence on the print.
Water life: ink contains VOC (Dioxins, PCBs, PVC and Phthalates) and heavy metals, which ends up in nature after use and their containers end up in the landfill. For example, the PCB's in ink disturbs the surface tension in water.
"The advantages of having a profile on Fundsup are bigger than we expected and this is just a beginning!"
Where do you stand right now?
InPhocal as a company was founded in September 2019. After various pivots, our team has been formed in July 2020, simulations of the first invention that were completed in October 2020 and proven in the lab in November 2020. The second invention was simulated in November 2020 and proven in December 2020. The last phase of the lab was finished on 12 January. We are proud to announce that we are planning to send out our first in production line prototypes the moment patents are filed. Which is estimated to be in April 2021.
When are you planning to go to the market?
After improvements and feedback, we expect to start our paid pilot in July 2021.
Who has invested in you and what kind of investors are you looking for?
Our first investor has been HighTechXL. For the pre-seed round which we are doing now, we already have a leading investor from the Deeptech Seed Fund. Since we joined Fundsup (not long ago), the app has given us various leads. Fundsup connected us with a senior expert of the export industry with whom we are also in ongoing talks about a possible investment. The advantages of having a profile on Fundsup are bigger than we expected and this is just a beginning!
What would be the ideal investor match?
We are looking for two things:
Knowledge in the marking/packaging/laser industry. The earlier we enter the market, the sooner we can start the research needed to scale to the higher value markets.
We will have a second-round relatively fast after this round. Dilution or participation in this round is something taken into consideration.
For this pre-seed round, there is a lot of interest, thanks to Fundsup. We are preparing our next round, so if you are interested to be updated about our progress, make sure to follow our account on Fundsup.
Best of luck with everything!
Thanks, check out our pitch deck in the Fundsup app: https://api.fundsup.co/go/oEDAUt5Ys0