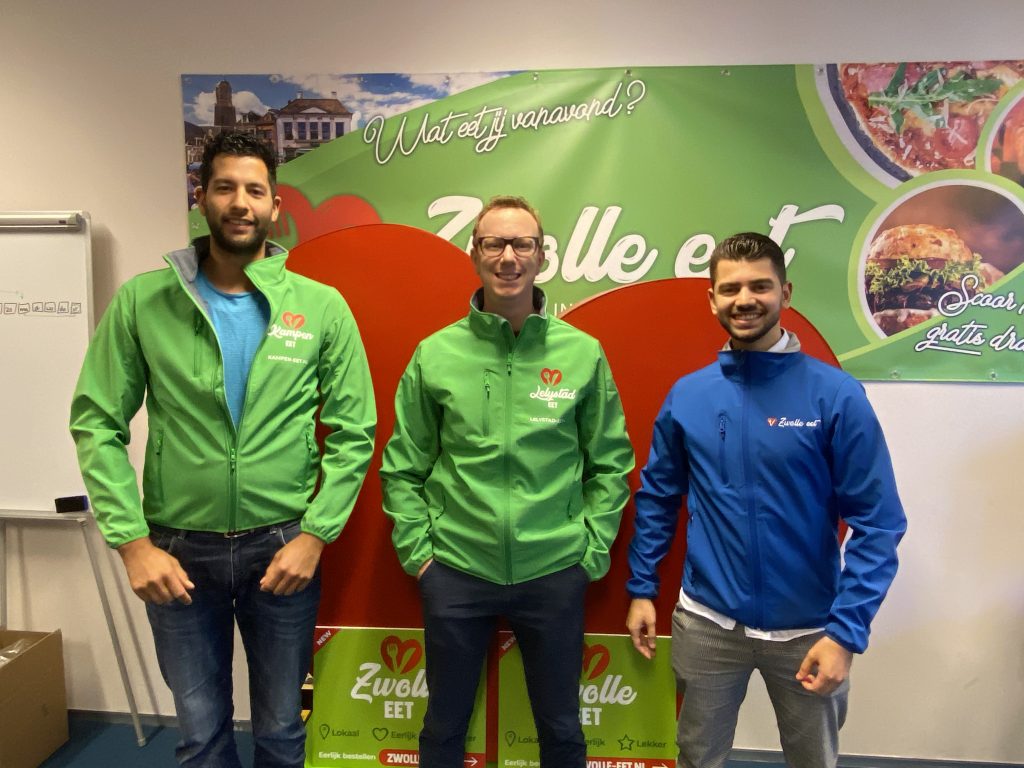 Every month we feature a new startup at Fundsup that forces a radical breakthrough. This time we chat with Hugo Smink, Co-founder Nederland Eet Group.
Hi Hugo, what exactly are you doing?
Together with my co-founders Narayan de With and Ibrahim Al-Dalaimi we run Nederland-eet.nl. We are an online food delivery platform. Essentially we built a two sided marketplace in which we aim to solve a problem for the B2B (restaurants) side and provide more fun, engaging and immersive shopping experience for the B2C (end users) side.
What motived you to start this business?
When Narayan and I came back after working and living in Shanghai for 5 years we were looking for a new challenge. We quickly noticed that in those past 5 years the ecommerce and platform landscape in the Netherlands had not changed much. The market is dominated by a few very large players and the shopping experience for the consumer is limited, especially in the online food delivery sector.
We spent a great part of 2018 researching this sector and found out there is a lot of frustration among restaurant owners. Commissions are sky high, costs of extra services such as exposure on the platform are insanely costly and generally there is no real way to differentiate yourself from the competition.
We soon realized that there is room in this market for a challenger. So we decided to ambitiously penetrate this heavily monopolized market.
"We are convinced the squeeze model used by the monopolists is not sustainable."
What sets you apart from the competition?
It is important to understand that we need to be an attractive partner to both the restaurants as well as the end consumers. Primarily we aim to make an impact. We are convinced the squeeze model used by the monopolists is not sustainable. Our core values are Consciousness and Fair. We are being fair by guaranteeing a fixed low commission per order. On average this translates into a saving of 45% per order compared to the competition.
Furthermore we focus on the sustainable and healthy character of the restaurants. We developed unique algorithms to link scores to the products and services. These scores are based on ingredients, sustainability and product reviews. The higher the score of a product and restaurant the better the exposure on our platform. This allows restaurants to highlight their unique products rather than simply pay money to the platform to receive a higher ranking. Creating a much more transparent shopping experience for the consumer.
Consumers have the ability to create a personal profile in the application and personal preferences are linked to restaurants creating a unique buying experience. No more scrolling through a boring impersonal list of restaurants names but choose from tailor-made promotions and products that meet your needs.
On top of that, we offer consumers the ability to compare and select on product level. Instantly choose the highest rated pasta dish makes for an efficient and satisfying shopping experience. Thanks to this exciting new and proprietary technology we offer a uniquely personalized service for the restaurant's end users.
"By the end of 2020 we aim to be live in 10 cities."
Where are you at right now?
We are currently live in 5 cities of which Zwolle is our biggest market. We recently closed our second round investment and raised €265k capital. We utilize this investment for tech development and aggressive business development.
We will launch a completely new app after the summer and we aim to finalize our unique proprietary software end of 2020. By the end of 2020 we aim to be live in 10 cities.
Who has invested in you and what kind of investors are you looking for?
Oterap BV, a family investment fund with roots in the food industry, and JHH BV, informal investors with years of experience in tax and legal. Both are a great match for Nederland-eet.nl. Adding valuable knowledge to our team.
We are still looking for an informal investor that is interested in a convertible loan option. Preferably an informal that has a strong commercial background and network which we can utilize for business development. A background in the Horeca sector is a plus too.
We also anticipate a VC round in 12 to 18 months from now. A VC with a history in platform economy is a big plus.
Best of luck with everything!
Thanks, check out our pitch deck on Fundsup: https://api.fundsup.co/go/6CDnyt-FO