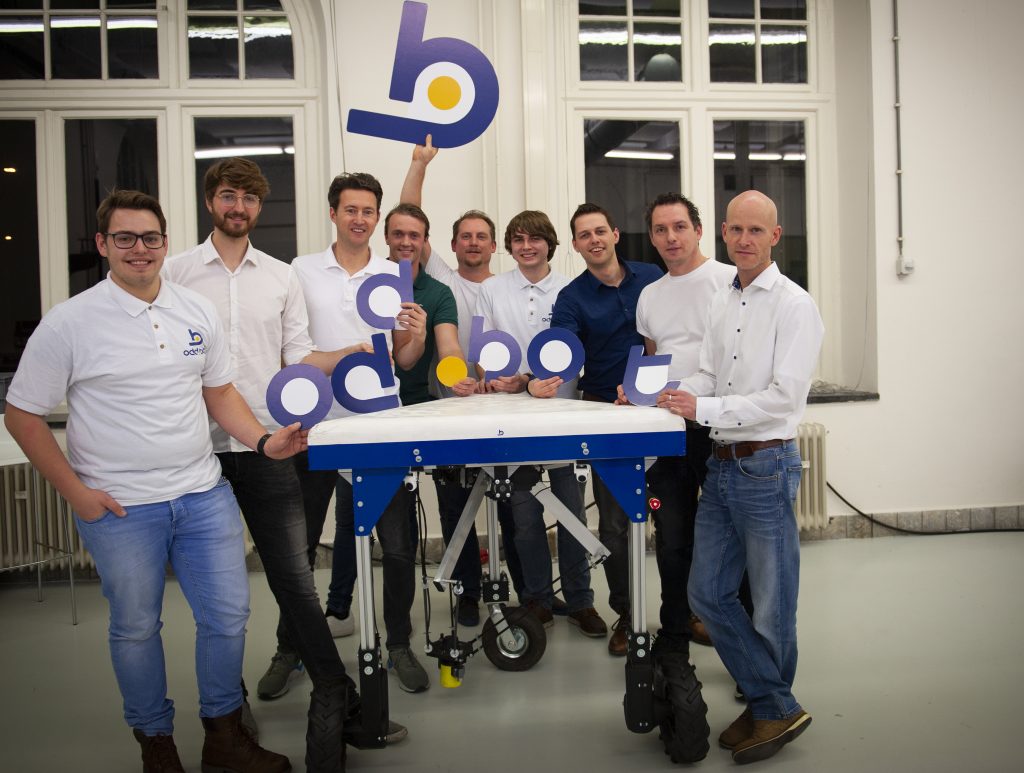 Every month we feature a new startup at Fundsup that forces a radical breakthrough. This time we chat with Martijn Lukaart, the CEO of Odd.Bot.
Martijn, what exactly are you doing?
We have managed to successfully create a mechanical in-row weeding robot for arable farmers as a successor of chemical- & manual weeding. This robot utilizes A.I. machine learning technologies to distinguish crops from weeds and remove the weeds mechanically.
Where do you see its main application?
First, we focus on organic farmers to assist them with their manual weeding tasks. For them, it's difficult to find and motivate staff to do the strenuous work. And the recent COVID-19 crisis has shown the fragility of our current system. With borders being closed it was even harder to get the seasonal workers in, leaving the food to rot in the soil.
We know that solution is not only vital for the organic farmers here in Europe. It is also a solution for the conventional chemical farmers that want to heavily reduce or replace the use of chemicals.
"We will help save 156.000 liters of chemicals from our environment in the next 4 years."
What is the impact of your business?
We help conventional farmers make the switch to more sustainable agriculture so that they can produce healthier, more nutritious, and affordable food that is ethically sourced. The new legislation is forcing conventional chemical farmers to find alternatives for the use of the chemical weed killer, the herbicide. The EU has expressed the ambition to double the amount of organic farmland and half the amount of chemicals used within the next decade. We will help save 156.000 liters of chemicals from our environment in the next 4 years.
Where do you stand right now?
Our Proof of Concept was validated this summer by Wageningen Research where we tested our mechanical in-row weeding robot at their 'Farm of the Future' in Lelystad. And we have just filed a patent for a 3-in-1 pusher and gripper. With that, we push the very small weeds back in the ground and pull or scoop out the larger weeds.
When are you planning to go to the market?
As of 2023, we will go to the market with the 0-series. We have already launched the Trailblazer programma for the early adopters starting our first paid pilots in 2021.
Who has invested in you and what kind of investors are you looking for?
To date, we have managed to secure over 750k of funding, while still maintaining 100% of the shares. Besides our own savings, this has been public funding from Horizon Flevoland's PoCfonds and subsidy. We are now raising 500k as convertible notes to finalize the optimization of the market side dynamics and validate the business model of the Weeding-as-a-Service. In the co-creation process with BioNext, the largest organics farmers association in The Netherlands we get feedback and signed orders. By next year we plan to do a proper equity round. We look for investors that believe in our mission and ideally can also add value beyond the monetary investment alone.
What would be the ideal investor match?
An investor who is an experienced entrepreneur that is well connected and willing to open its network would be of most value to us. Affinity with agriculture and a drive to create an impact with us is a huge benefit.
Why you?
Because it's not just me. We have a great multidisciplinary team of 12 people. I am a serial tech-entrepreneur with a background at Microsoft and Dell and I am here to drive and boost the business and execution. Our CTO Erik is a mechatronics expert and has experience building an asparagus harvester. Wouter is an A.I. expert and has now optimized the detection in a way that we can soon even distinguish a carrot from chamomile. Competitors still focus on either precision spraying with chemicals or in-row weeding by hoeing around much larger crops. Our team is one step ahead of them as we can detect, inspect, and remove an exact plant on a specific level.
Best of luck with everything!
Thanks, check out our pitch deck in the Fundsup app: https://fundsup.co/shared-company/?cid=BkKO_0n1V