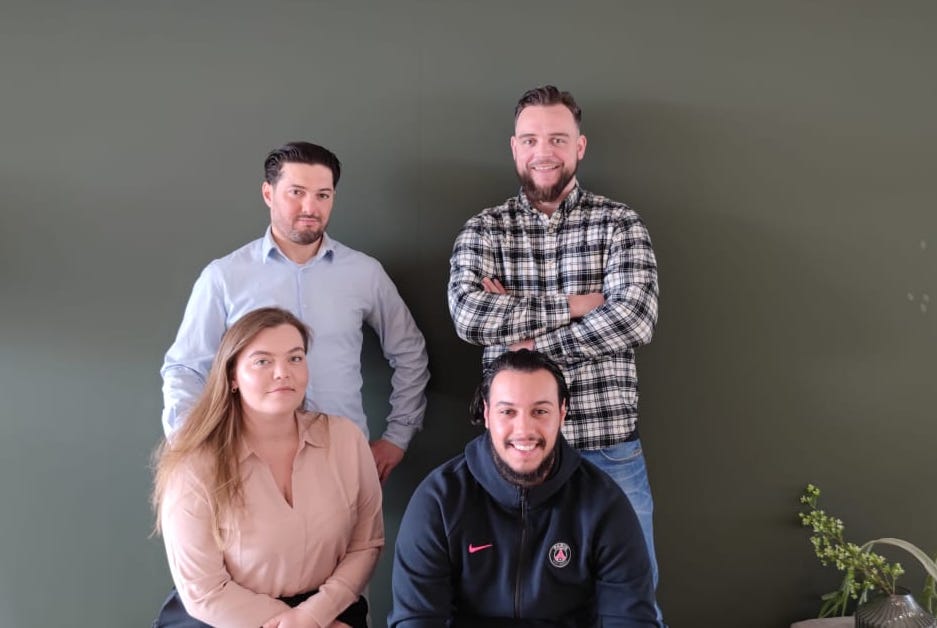 Read the Dutch version on Emerce.
Every week we feature a new startup at Fundsup that forces a radical breakthrough. This time we chat with Karim Akhlal, CEO of Recrout.com.
Karim, what exactly are you doing?
At Recrout we combine social science and SaaS technology. We help hiring companies predict the best hires and select the right people based on psychometrics with our SaaS Talent Platform. Our innovative, user-friendly technology and our best-in-class assessment modules enable our customers to predict the perfect fit for start-ups, scale-ups and SMEs.
We empower company success with matches based on predictive analytics, personality traits and cultural elements.
Where do you see its main application?
We offer start-ups, scale-ups and SMEs a white-label SaaS Talent Platform to help them create an excellent and objective recruitment process.
We develop data-driven and easy-to-use matching and selection technology to help recruiters work smarter, attract the best candidates, make better matches, gain more insight into candidates and reduce time and money invested per hire.
We provide our customers with a fully automated SaaS intelligent hiring platform at the price of a single job post. It's fully white-label and it includes an integrated assessment module to automatically pre-select the candidates based on their talent and personality.
"We face inequality issues and labour market discrimination. I mean come on, this is 2021. Is this the best we can do?"
What is the problem you are solving?
Over the course of the years we have identified three very clear problems that we are solving:
Recruitment process inefficiency. The recruitment process has proven to be a cost- and time-inefficient, conservative process. Utilizing only traditional recruitment methods and tools often leads to costly mismatches and time drain.
Subjective Matching / Discrimination. Discrimination in the labour market is still a major problem. This calls for a more objective way of matching and selecting your future employees.
Low quality of assessment process. Personality assessments used for pre-selecting candidates are costly and for that reason not always a standard part of the procedure. This means that most companies settle with the current status quo, which clearly does not work anymore. Or maybe the old way just never really worked in the first place.
What is the solution you are offering?
We offer our customers the most efficient and user-friendly hiring platform in the industry. Our technology automates the entire pre-selection process and helps companies to manage the candidates' pipeline.
With a disruptive price point, we allow companies of all sizes to use the software. Our AI-driven hiring platform, with an integrated assessment module, offers them an intelligent and user-friendly way of matching and selecting. Result: less time waste, money waste and unique and essential insights which help our customers make better hiring decisions based on objective and validated data.
What is the impact of your business?
We currently have millions of jobless people in the EU and every day thousands of people are losing their jobs. Millions and millions of people search for new jobs every month. On top of this, there is a big skills gap between jobseekers and hiring companies. We face inequality issues and labour market discrimination. I mean come on, this is 2021. Is this the best we can do?
The old way of recruitment and job search is not working anymore and the labour market is completely broken. The Covid crisis has boosted unemployment rates amongst young talent who mostly lack work experience and a relevant CV. As a result, it has sparked an increase in applications that hiring companies need to process.
Work is a big and important part of someone's identity in Europe. Being jobless or not choosing the right job can cause lots of social, economical and personal problems. And at the same time, most companies are really struggling to decide who to hire. Our mission is to fix this problem.
We are also reinventing the way that assessments are used within the hiring process.
Where do you stand right now?
We have been one of the pioneers in Europe when it comes to combining psychology and technology for recruitment and selection purposes. Since our launch five years ago we have inspired many companies, small and large, to follow our lead. We are noticing a change in the world and that gives us the satisfactional belief that we are on the right path.
Recrout operates on the cutting edge of social science and technology. We are only at the beginning of what we believe is a new revolution in creating predictive analytics with the use of intelligent technology (like AI and self-learning data-driven algorithms) to improve hiring success and prevent discrimination.
The possibilities and potential of social science combined with technology are endless if we are able to make its positive outcomes accessible and easily applicable to the world. Regardless of where you live, how you look or where you were born.
In the end, our job is to help companies achieve their long term goals. And it's the people that make that happen. So we need to make sure that we develop the best technology to predicts future job success.
"We have been one of the pioneers in Europe when it comes to combining psychology and technology for recruitment and selection purposes."
When are you planning to go to the market?
Although Recrout has been operational since 2015, this year we will go live with our latest product. In the last six years, we have learned so much and those lessons learned have led to the creation of our white-label solution.
We believe that we can make a much bigger impact by sharing our technology with any company that is serious about creating an objective and intelligent recruitment process. That feels to us like a much better approach than trying to create a new job portal where we have the illusion that somehow we own the candidates. It's simply a dying business model.
Our relaunch of Recrout's white-label SaaS proposition is planned for May 2021. The world is about to experience how simple recruitment can be.
Who has invested in you and what kind of investors are you looking for?
We have been independent since our start in 2015 and always kept investors at a safe distance. But the truth is that if you are really serious about scaling, you need external capital and networks.
Last month we closed our first investment round from a strategic investor, which also happened to be one of our customers! I don't think you could get a greater compliment. The resources will be used to roll out the new GTM strategy for our SaaS proposition, focusing mainly on branding, sales and marketing. So at this moment, we are not actively looking for investors.
What would be the ideal investor match?
As I mentioned, we are not looking for investors right now, due to our recent investment. However, if we meet someone that understands our business, shares our beliefs and can help us scale globally then positive things could happen. But at this stage, we would really need to have a connection with each other.
For us it's not just about the money, we are not interested in financial consultants looking for their annual 7-8% ROI and who love to spread around spreadsheets. We are entrepreneurs, not policymakers. So once the moment arrives, we will be looking for investors that are aiming for the moon – or even better – for Mars, and really want to create an impact on a global scale.
In the end, you do business with people. So you want to make sure that you are dealing with people that you trust and who will cover your back when it gets hot in the kitchen. Because if you are trying to disrupt an entire industry, it will get hot in the kitchen!
Best of luck with everything!
Thanks, check out our pitch deck in the Fundsup app: https://api.fundsup.co/go/B1lug8yNsf