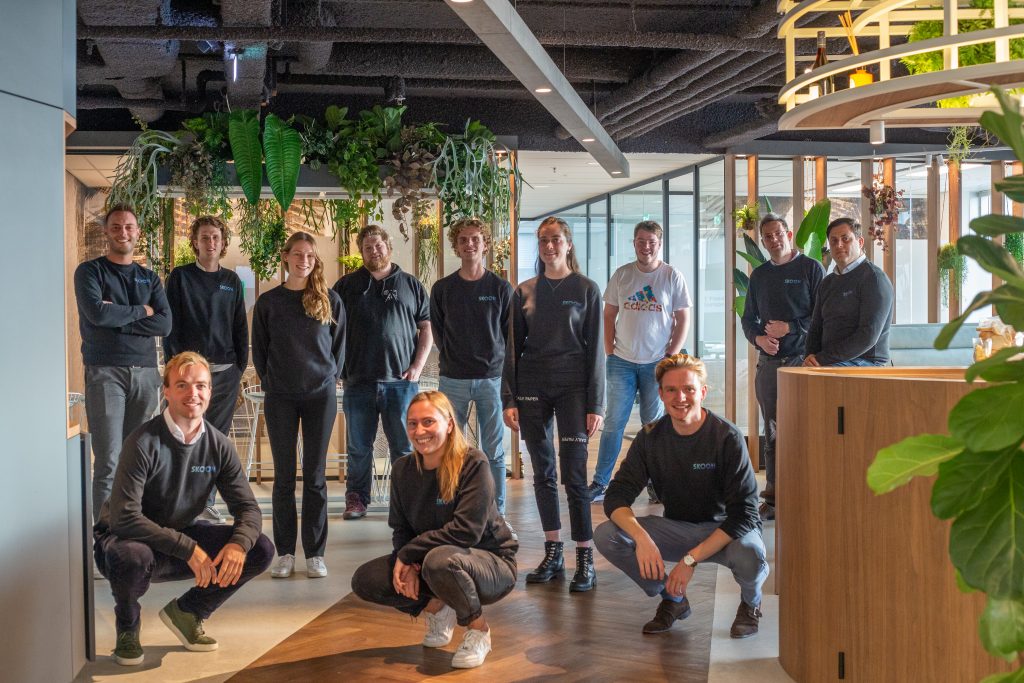 Every week we feature a new startup at Fundsup that forces a radical breakthrough. This time we chat with Peter Paul van Voorst tot Voorst, Founder of Skoon.
Read the Dutch version on Emerce.
Hi Peter Paul, who are you and what exactly are you doing?
We are Skoon, a team of software developers, and practical operation managers! Our mission is to provide clean energy on demand. Our focus is on mobile energy, such as mobile batteries or hydrogen generators. We believe these solutions should be clean, competitively priced, and easy to find and operate. This is why our team, with practical field experience, develops software for rental management and trading of clean mobile energy assets.
How did it start?
The journey started in 2017 when Daan Geldermans and I were studying Maritime Technology in Delft. With a strong drive to contribute to the growing number of sustainability initiatives in this global industry, we developed the concept of mobile swappable batteries for vessels. The further development of this concept has also given us a vast amount of experience in hardware and operations, which have placed us in a unique position to develop software for this and many other energy challenges.
What are the problems you solve?
First of all, energy users don't have enough options, as a wide range of clean energy storage owners is hard to find. This often results in sub-optimal and/or expensive solutions.
Also, without proper revenue stacking, return on investment for clean mobile energy assets proves to be challenging, resulting in a high rental price or low utilization rate. The balance between these two is both precise and dynamic, because geography, seasons, and many more parameters need to be taken into account.
Lastly, managing mobile energy assets and their operations can be risky if steps are skipped or forgotten because numerous required actions and add-ons are involved. This limits the growth potential of the suppliers, or in the worst case causes the lights to go off here and there.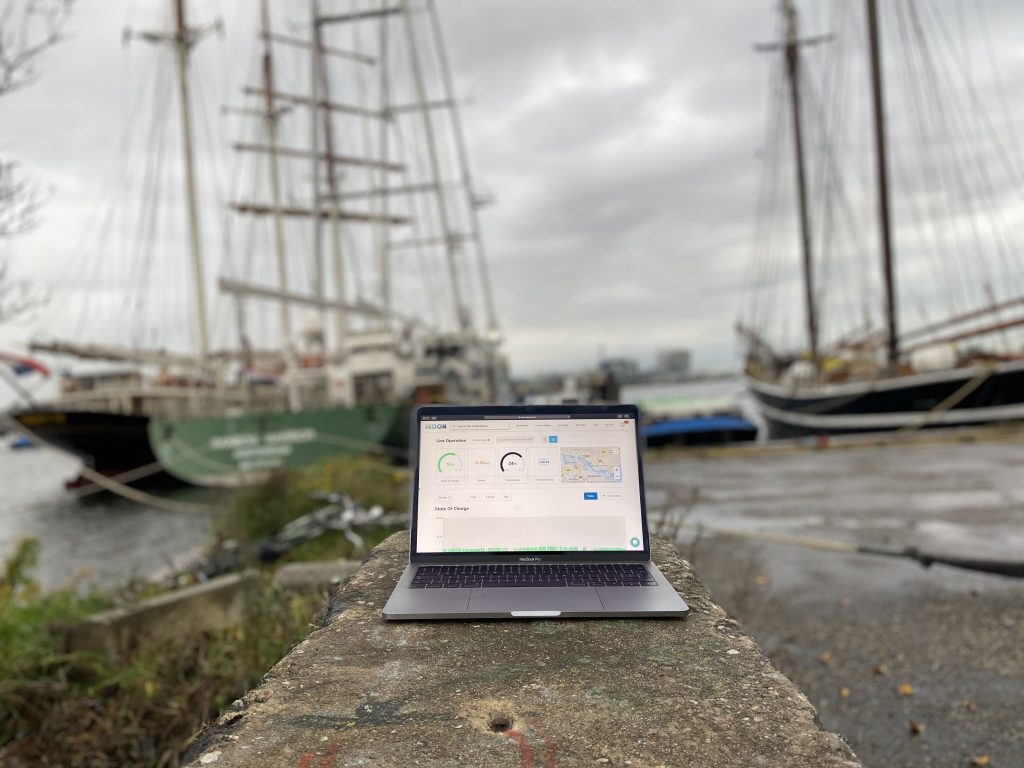 What's your solution?
We provide a platform that can be best described as a SAAS-Enabled Marketplace.
Starting with the marketplace, Skoon brings battery owners and energy users together. By ordering or offering batteries online, there is a clean and financially competitive alternative to fossil fuel-based energy. Skoon automates services such as charging and logistics to help customers optimize their energy use and return on investment. Projects that traditionally rely on diesel generators now have a clean, emission-free, and noise-free alternative. The alternative comes from a wide range of different energy solutions, offered on the marketplace. This results in more optimal and cost-effective matches.
This marketplace, where revenue stacking is improved by dynamic pricing and other analytical algorithms, is supported by a separate software tool, to make being a battery or hydrogen owner easy. We provide cloud rental software to manage a fleet of valuable mobile energy assets, which is developed from an energy perspective. Rental management is made easy with solutions such as asset management, quoting and invoicing, monitoring, and connecting to the right balancing service provider. To increase growth potential, companies are equipped with tools and insights to scale and make strategic investment decisions.
"Our team has turned the [Corona] situation into a time of improvement, filling up the gaps in our value proposition (…)"
Where do you stand right now?
In terms of the quality of our software, Corona is the best thing that could happen to us. The (partial) lockdown that we're in at the moment, provides us with even more opportunities for high-speed development of new features. Our team has turned the situation into a time of improvement, filling up the gaps in our value proposition and structuring all the software and databases we use to provide clean energy on demand. Where revenue is affected, we've managed to add business models that strengthen the overall business model and strongly believe this will result in even faster growth. An example is the SaaS tool we've developed in the lockdown period, which gives us immediate access to a global market with monthly recurring revenue.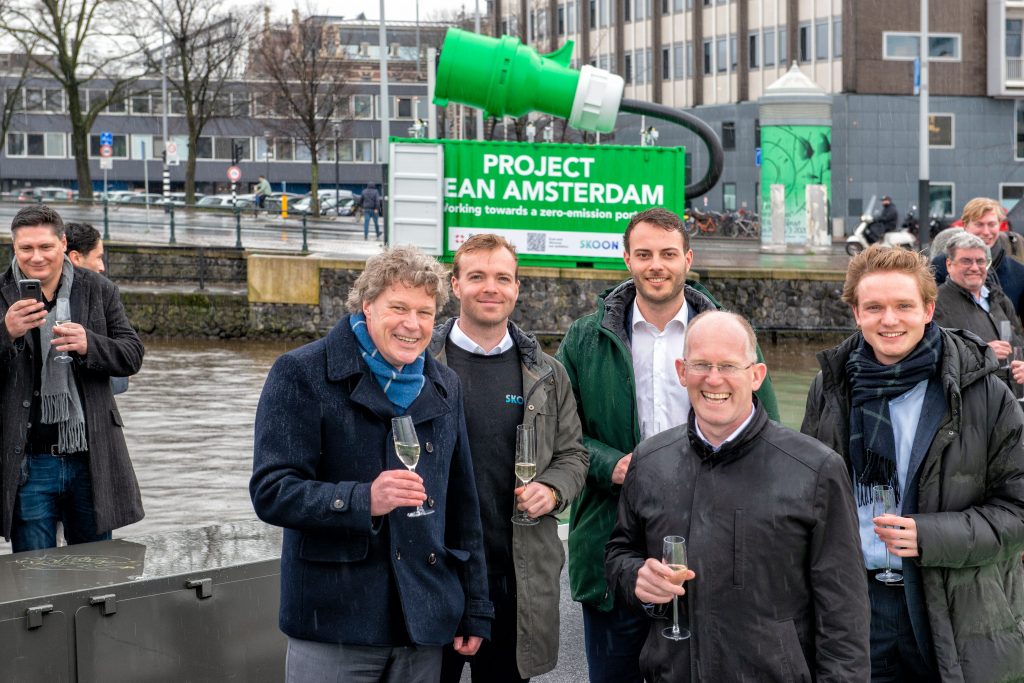 Who has invested in your firm and how much money are you looking for?
In the past three years, Skoon has received tremendous support and funding from Damen Shipyards, Koolen Industries, and in the Corona time, the government. Damen Shipyards, being an international shipbuilder, is supporting our growth with their expertise, network, and salesforce worldwide. As sustainability is one of the core strategic pillars of the company, electrification plays an important role in the product development of the company. Kees Koolen, with Koolen Industries, supports our mission with his experience from his time leading Booking.com and being involved in the early days of Uber. His valuable lessons on how to run an online marketplace, combined with his current activities in the energy industry, has proved to be a great strategic fit.
For our next round, we will continue to look for strategic investors. Special interest goes out to those that bring knowledge on SaaS products, online marketplaces, and enterprise software. Investors with a network in governments or sustainability networks are also interesting, as we're involved in several governmental developments to accelerate policies that drive clean energy acceptance.
How do you see the next couple of months?
I'm excited for the next couple of months. Several new developments we have started this year will come to completion and strengthen our position in the clean energy marketplace. As we're not limited by geography anymore and the world has gotten used to working online, the opportunities with our software solutions have increased tremendously. And lastly, most investors have also seen the tremendous value that is being created in a time like this, even when revenue goals are not achieved all the way. This is the time in which real value-added solutions are developed, the time our passionate team thrives, and is motivated to continue working on our positive impact on society.
Best of luck with everything!
Thanks, check out our pitch deck in the Fundsup app: https://fundsup.co/shared-company/?cid=HyxhGzu2Tm