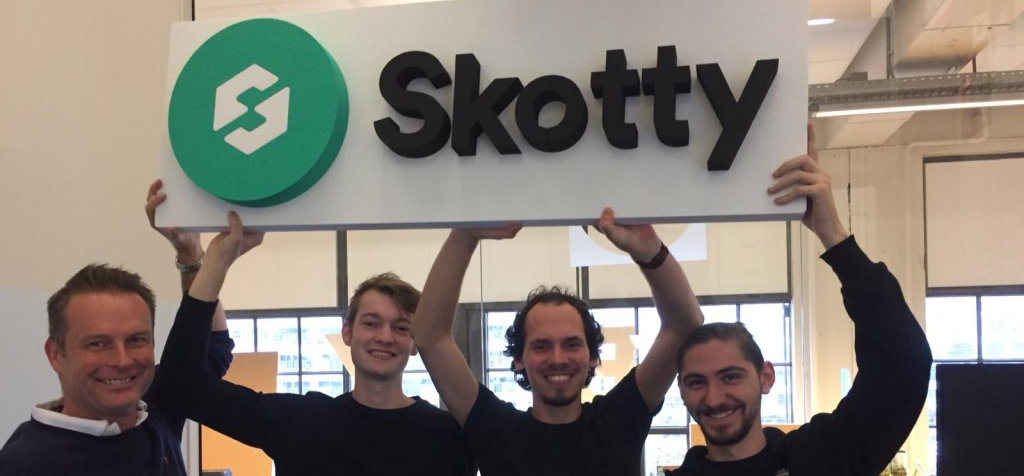 We love to highlight companies and startups that are making a big difference in our daily life. This week we chat with Mees Boeijen, founder of Skotty.
Hi Mees, can you tell us a little bit about yourself?
Skotty has been founded by me and Oscar van der Vleuten. I've been an internet-entrepeneur since 2012, with a strong focus on internet-freedom and privacy.
My vision is that we should make privacy the new default in our online lives. In a day and age where information is invaluable, we should help each other defend our human right to privacy and freedom of speech. Skotty is an embodiment of that vision, where we help professionals communicate more efficiently, while guaranteeing total privacy and integrity for them, but also for their clients and partners.
So what exactly does Skotty do?
Skotty is a platform for quick and efficient communication from professionals to their clients and partners. It allows them to share anything, from normal files and messages, to complicated documents like contracts and payments. Skotty then makes that information smart, for example by allowing recipients to immediately sign those contracts, make payments and sending back other information needed by the professional. All in a single transaction with a fantastic customer-experience to along with it.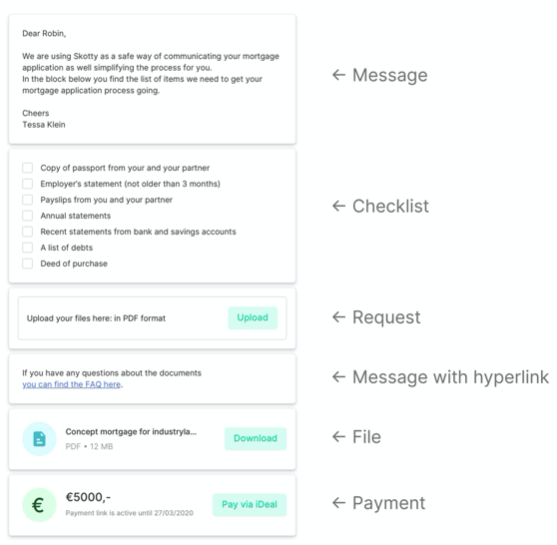 The unique differentiator of Skotty is that we are fully "zero knowledge". This means that the encryption of information takes place on the devices of the sender and the receiver. Not on Skotty servers. This guarantees complete privacy and security while communicating online. By also enhancing the way people work and speeding up their key communication Skotty is one of the most promising startups out there and helps countless of user work faster than they would using traditional methods, while dealing with security in the background.
What is your most important application?
Even though Skotty can be applied in many industries, we initially focus on the finance and consultancy industry, where many communication processes are suitable for optimization and automation. These industries report massive amounts of hours (sometimes representing over €1M lost a year) wasted on proper filing and transmission of customer data, so this creates an immediate demand for our new product, allowing them to save costs while improve customer satisfaction at the same time.
Where do you currently stand?
We've launched our MVP last year at the Next Web conference and have managed to win some awards for our mission to make privacy the default in online communication, while simultaneously enhancing the way people work. Last year we have managed to get traction of more than 5000 users that have generated over 60.000 transactions.
Our new product will be launched Q3 this year, which will also be offered by B2B resellers that believe in our mission.
Who has invested in you and what kind of investors are you looking for?
Skotty has a dedicated team of angel investors that believe in our mission and have given us the possibility to develop and market our MVP. We are looking for an investor with a strong affinity with the online industry, who wants to make a positive impact in protecting human rights while solving the problem of inefficient communication, but who can also help us with their knowledge and network regarding the development of our team and expansion of our company.
Good luck with everything!
Thanks a lot! Don't forget to check out our Fundsup pitch at https://api.fundsup.co/go/F2NfR1J0xU
Sign Up Free