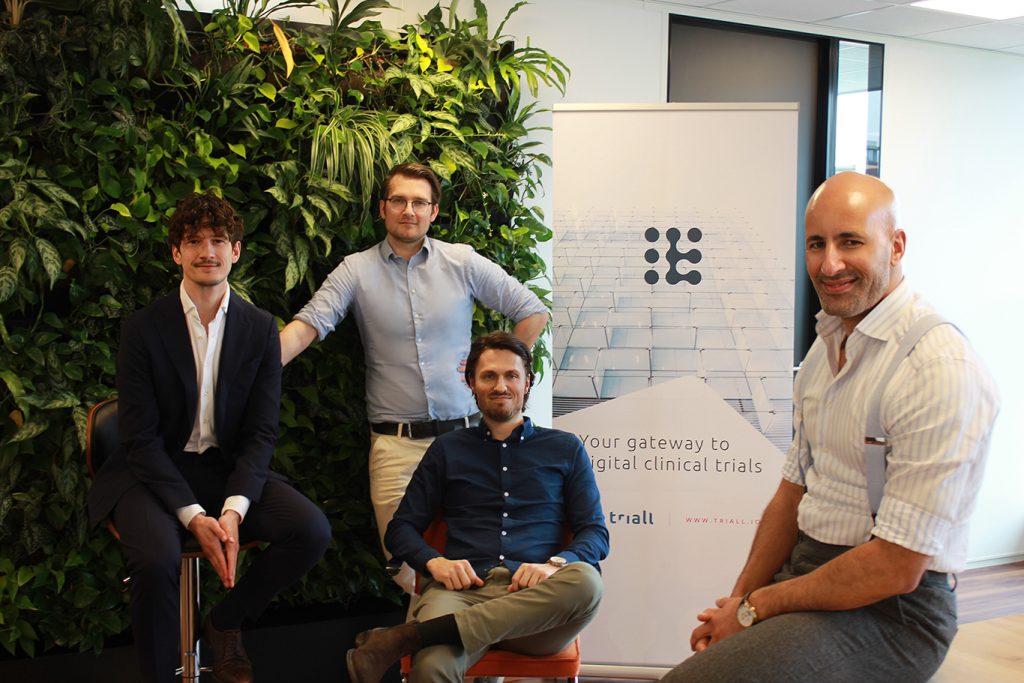 Every week we feature a new startup at Fundsup that forces a radical breakthrough. This time we chat with Mark van der Waal, co-founder and Head of Product Design at Triall.
Mark, what exactly are you doing?
We're developing blockchain-integrated software solutions for clinical trials; research studies that are necessary to evaluate the safety and efficacy of new vaccines and therapeutics before these can enter the market. Clinical trial processes regularly take up to 10 years or more and have become more and more complex over the past decade, with modern trials involving many specialized parties and a multitude of (often isolated) software systems. As a result, clinical trial professionals widely indicate to suffer from a lack of oversight in their daily clinical trial operations, which ultimately translates into longer development timelines and higher costs for new drugs. Moreover, the industry has been digitalizing at a rapid pace, and trials have become increasingly data-heavy as a result. This trend is only expected to continue, with future trials projected to adopt mobile (medical) devices for data collection and becoming more 'decentralized' as a result (compared to conventional trials that collect data at research sites only). However, we're witnessing a growing number of problems concerning medical data integrity and auditability, which obviously presents a growing concern for authorities such as the EMA and FDA.
At Triall, we have been targeting these industry pain points, working closely with clinical research professionals and leveraging our own experience of managing more than 400 clinical trials. Our software solutions apply blockchain technology to establish verifiable proof of data integrity and authenticity, shaping tamper-resistant audit trails of entire clinical trial timelines. Moreover, our software is designed to significantly improve oversight and operational efficiency. It includes blockchain microservices for cryptographic identity and access management to establish secure data connections between currently isolated software systems and sites. These solutions gradually build towards our future vision: a true digital ecosystem of integrated clinical trial software systems, providing clinical trial professionals with a place where their digital activities may start to act in concert. Ultimately, our mission is to accelerate the introduction of safe and affordable vaccines and therapeutics to society by streamlining modern-day clinical trial operations.
How has the COVID-19 pandemic impacted the clinical trials environment?
The importance of the clinical trial industry for the introduction of new vaccines and therapeutics is probably more evident than ever. We also see that the pandemic has further accelerated digitalization trends in the clinical trials environment since many have been forced to adopt remote working models. Clinical researchers have long been stuck with local file systems, general-purpose solutions (such as SharePoint), or even paper files (hard-copies), but we see a clear transition towards purpose-built software tools ('eClinical solutions'). These are becoming increasingly vital for reliable and efficient digital clinical trial operations. A multitude of function-specific solutions have emerged, but these typically don't interact well. This only increases the severity of the problems we are targeting and arguably makes our approach even more relevant.
"Ultimately, our mission is to accelerate the introduction of safe and affordable vaccines and therapeutics by streamlining modern-day clinical trial operations."
Where do you see the main application of your clinical trial software?
Our first series of solutions are specifically designed for professionals that manage clinical trial projects. These are typically associated with pharmaceutical, biotech, and medical device developers (so-called 'sponsors'), or with contract research organizations (CROs) that are hired by these sponsors to manage their clinical trial projects. Since trials often involve many different investigative sites (hospitals or dedicated research centers), our secured cloud-based software will also be used by investigators (doctors, research nurses) at the site-level.
Zooming out to the 'digital ecosystem' perspective, we will also be servicing other developers of clinical trial software. This is where our API-driven infrastructure of blockchain microservices really comes into play. Third-party eClinical solutions can use our APIs as an easy entry to blockchain technology, and to securely integrate with each other. This should gradually shape a multi-sided platform for digital clinical trial operations.
We realize that this represents a bold vision, and therefore take an agile approach by first establishing a 'minimum viable ecosystem' of several complementary eClinical solutions. These will include the key types of eClinical solutions out there, such as an electronic Trial Master File, Investigative Site File, and Data Capture (eTMF, eISF, EDC), and a clinical trial management system (CTMS) that reads metrics from these function-specific solutions.
What is the impact potential of your business?
In clinical trials, it's all about establishing reliable and verifiable evidence of the safety and efficacy of candidate vaccines and therapeutics, and about doing so in a cost- and time-efficient way. The industry is digitalizing at a rapid pace and data management security and efficiency present a growing concern for all stakeholders. While 'Big Pharma' and 'Big CRO' players are able to afford top-notch, all-encompassing software suites to streamline their digital operations, smaller industry players typically are not. These smaller players represent the majority of global clinical trial activities and suffer from suboptimal, fragmented software infrastructures that hamper their operations. 'Big Pharma' generally take over projects from smaller industry and academia to complete late-stage clinical development. Reiterations are often required to fix documentation inadequacies in upstream phases. Therefore, the potential impact of our software solutions in terms of speeding up and reducing the cost of drug development timelines is significant.
Where do you stand right now?
Over the past 3 years, we have collaborated with leading industry and academia to sharpen our mutual visions, and to publicly communicate about the general promises and challenges of blockchain and related technologies. Our academic efforts have for instance been featured in Science, Forbes, and Inverse. In our company, we have been working on our first application for clinical trial professionals called Verial eTMF, a blockchain-integrated document management solution that enables us to generate verifiable proof of the existence and integrity of essential trial documents. This is a unique feature, which promises to mitigate data integrity issues and to assure inspection-readiness, providing authorities, developers, and patients with confidence about the reliability of clinical trial evidence. The MVP version of Verial eTMF was pilot-tested in 2019, credited as the world's first implementation of blockchain in a live and running clinical trial. The first commercial version is now being onboarded in a growing number of clinical trials.
In parallel, we are partnering with eClinical software providers, especially those that offer function-specific and currently isolated solutions. Linking up and integrating with these companies will, in due time, allow us to introduce the advantages of an all-encompassing, modular, and interoperable platform to our clients, tailoring to a broad range of custom user needs and requirements.
Our initiative is now supported by an international partner network and a global advisory board of industry experts and thought leaders. They support us in different areas of business, from product design and quality management to strategy and business development.
When are you planning to go to the market?
Our first application Verial eTMF has entered the market, and we are now extending it with features that strengthen its competitive positioning, such as blockchain-registered digital signatures and AI-enabled automated document classification. Over the coming years, we will expand our offering with complementary software solutions to visualize our ecosystem approach for end-users. These include an integrated trial management dashboard, a multi-sided partnering and communication platform, and several mobile applications to engage patients in clinical trial projects. 
How will you fund this roadmap?
We have been lucky to partner with Dizer Capital, a US-based venture capitalist that focuses on blockchain, fintech, and clean energy. Dizer has been in the blockchain space since 2013 and has deep knowledge of decentralized systems and tokenized ecosystems. Together with Dizer and several other key partners, we are now preparing for a global crowdfunding campaign in which we will offer our own utility token (called 'TRL') to the public. This token sale, which we hope to initiate in Q2 of 2021, would allow us to become fully funded, grow our community, and build towards our digital ecosystem vision over the next several years.
"We pride ourselves on having a bold vision for the industry and on critically rethinking the status quo."
Who can invest in your token sale? What is the role of the TRL token?
Registration for our token sale will open soon. We welcome both retail and institutional investors to register their interest by signing up through our website (triall.io) or approaching us on Fundsup. Investors have to complete a KYC procedure and are bound to a vesting schedule according to which tokens can be exchanged and liquidated into fiat money.
As explained in detail in our project whitepaper, the TRL token can be used as payment for Triall applications. The token will facilitate fair and equitable sharing of benefits and access among stakeholders in our future ecosystem by enabling P2P compensation, self-governance, and community engagement. Put differently, the token lays the groundwork for a self-sustaining ecosystem, in which a multi-stakeholder community of clinical researchers, software developers, and (token) investors are incentivized to create and capture utility and value.
What would be the ideal investor match?
We pride ourselves on having a bold vision for the industry and on critically rethinking the status quo. We are looking for investors with a similar drive and a passion for emerging technologies, the Life Sciences, or both.
Best of luck with everything!
Thanks, check out our pitch deck in the Fundsup app: https://api.fundsup.co/go/16pU4E83ED