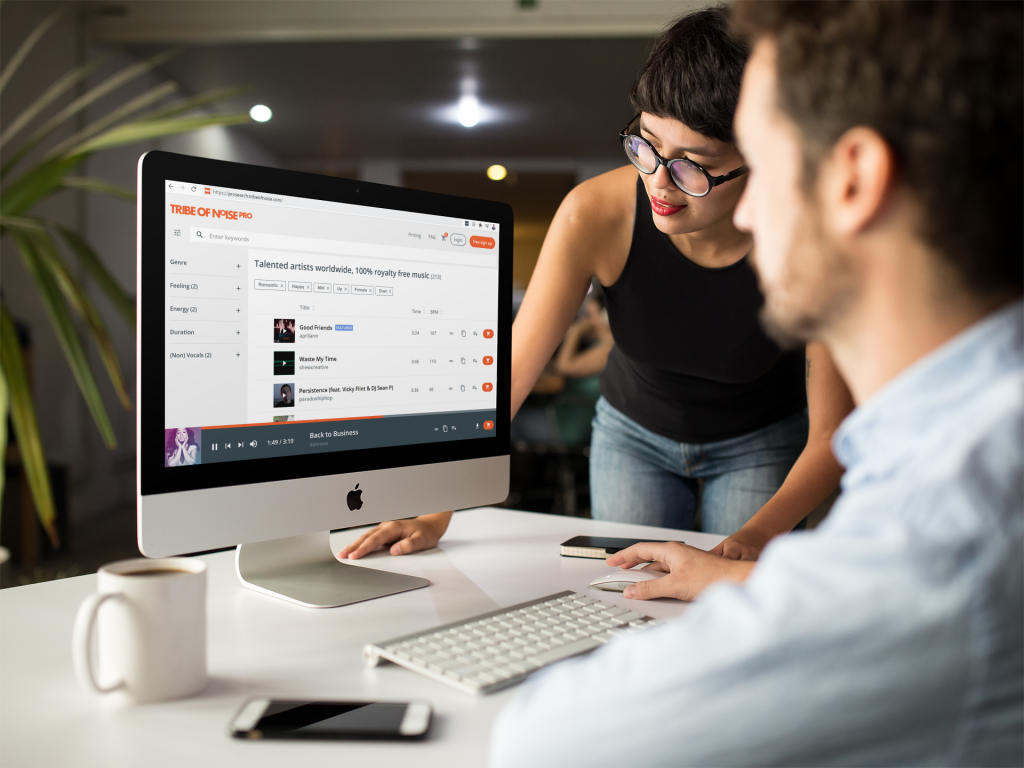 Every week we feature a new startup at Fundsup that forces a radical breakthrough. This time we chat with Hessel van Oorschot, Founder & CEO of Tribe of Noise.
Read the Dutch version on Emerce.
Hi Hessel, what exactly are you doing?
I am one of the founders of Tribe of Noise, a fair trade music licensing company and global community for independent musicians. We help talented musicians anywhere in the world to access global market opportunities in the most direct, fair and sustainable way.
On a personal level: I believe in leading by example, supporting my team and inspiring our partners to help us create more impactful opportunities for the 50,000 musicians in our global Tribe. Our core team is uniquely equipped for the job consisting of professionals specialized in music licensing, curation and community management on one hand, and technologists and executives who successfully lead projects for companies like KPN, Disney, Spotify, Sonos, Playnetwork and Getty Images on the other hand.
What are the problems you solve?
Every single day billions of people who create, share and remix content use online platforms from Google, Facebook, Tencent, ByteDance and Snap. Consumers, prosumers and media professionals need easy access to pre-cleared music to sync with their podcast, video, animation, advertisement or short film.
As part of this trend, the amount of music created and consumed keeps growing exponentially year on year. Investing in music IP is hot.
The investment in music publishing rights and artists' music catalogues has grown from $1bn in 2016 to $4bn in 2020, according to MIDiA Research. That number is expected to be easily surpassed this year. Hit artists from the 70s, 80s and 90s sell their rights. These deals are being done at 17 – 20 times value. This is attractive for those in established markets with established revenue history, but what about those who don't have that legacy, or are in a less mature market? Who is willing to offer new global talent a fair revenue model?
Independent musicians are actually the fastest-growing segment of the global recorded music business today. They are literally the future of the music industry. Their aim is to make their living out of their music and find a variety of ways to do so. And they need our help.
Tribe of Noise empowers musicians, anywhere in the world, to take back control, gain exposure and make money. The clients who in return use our business models, including Spotify, Apple Music, Deezer, Tidal and similar streaming services, have easy access to great, original pre-cleared music. And all payments from all clients go directly back to the musicians via one single portal; Tribe of Noise. Fair trade music, as a service.
How do you make money?
As explained above, access to pre-cleared music is hot and surging. We have two successful and profitable business models in place ready to scale.
The fastest-growing business model is our Tribe of Noise PRO licensing service. A one-stop-shop for people in need of affordable, original music. Music from talented artists, ready to license, download and use in your podcast, video, game, advertisement or short film.
Besides Tribe of Noise PRO, we offer "rights included" background music services to retail, hospitality, FMCG and other industries. In the last decade, we have successfully shown how to replace elevator music with original songs from independent artists. Artists who write songs from the heart for their fans. Our business clients can sign up online, it's a fully self-service model similar to Netflix or Spotify. We have business partners in Europe who repackage and resell our services locally. This enables the Tribe of Noise to stay lean.
"Tribe of Noise empowers musicians, anywhere in the world, to take back control, gain exposure and make money."
What is the social impact of your business?
We help local musicians to access global business opportunities.
In many ways, the traditional music industry still favors major music labels. But in the last decade we have witnessed, and in some cases influenced, a slow but steady transition towards the empowerment of individual talent. Even EU regulations, directives and decisions are forcing major entities in the industry to open up, show more transparency and offer more flexibility. But we need to lead by example. We will create and show more alternative success stories.
Our social impact:
Every artist is equal, no matter their culture, sex, country of origin etc. Tribe of Noise will listen to every single song uploaded. Tribe of Noise's model is reducing inequalities in the music industry caused by the traditional system.
Every artist participating in any of our revenue models should be rewarded. Tribe of Noise enables an increasing number of musicians around the world to earn regular revenue from their music.
We are still in our early days but some of our payouts resulted in substantial extra income on the musicians ́ livelihood. Every payout of €100 or more will, in some countries, have a major impact.
If you are reading this and wonder if we can benchmark our future impact based on the United Nations' Sustainable Development Goals: we are very interested. Our initial research shows that the Tribe of Noise should focus on Decent Work and Economic Growth (SDG 8) and Reduced Inequalities (SDG 10). SDG 1 (No Poverty) and SDG 5 (Gender Equality) are of course part of our core values.
Where do you stand right now?
I am super proud of what we have achieved so far without any venture capital or major marketing expenses. We have organically grown to a healthy, profitable business creating impact for a growing number of independent musicians around the world. We think it's time to scale. Let's start a dialogue with our business partners and investors interested in our story. Investigate the best way forward to grow our client base, develop new management and promotional tools for Tribe artists and roll out additional monetization models.
Who has invested in you and what kind of investors are you looking for?
Before founding Tribe of Noise in 2008 we were offered a substantial amount of money to set up shop in Silicon Valley. But this was not in sync with our vision to create a platform for musicians based on fair remuneration. Instead we chose organic and sustainable growth, stayed in The Netherlands and invested our own capital. Some years later two angel investors backed us and helped us to secure a substantial bank loan. Like many startups, we had our fair share of bumpy rides. There have been times where we took salary holidays to support Tribe of Noise. But don't worry, those times are in the past and this is now a success story. We managed to pay back all bank loans and grow a healthy business for all involved.
For scaling you need a different type of investor. We need to invest in a management team transitioning from creating a business to scaling a business. Also international business development and strategic partnerships need our focus. Combined with relevant metrics to measure our impact and success rate.
"We have organically grown to a healthy, profitable business creating impact for a growing number of independent musicians around the world. We think it's time to scale."
What would be the ideal investor match?
There will be social impact investors out there who completely understand and like our mission but never invested in the music industry. Feel welcome to connect. We will provide all the necessary industry insights. And to the (institutional) investors understanding the popularity of the multi-billion dollar music funds we like to say: make sure to invest in today's talent too. Together we can empower independent talents, the future of our beloved music industry.
Best of luck with everything!
Thanks, check out our pitch deck in the Fundsup app: https://api.fundsup.co/go/v8o5Rs-LPX