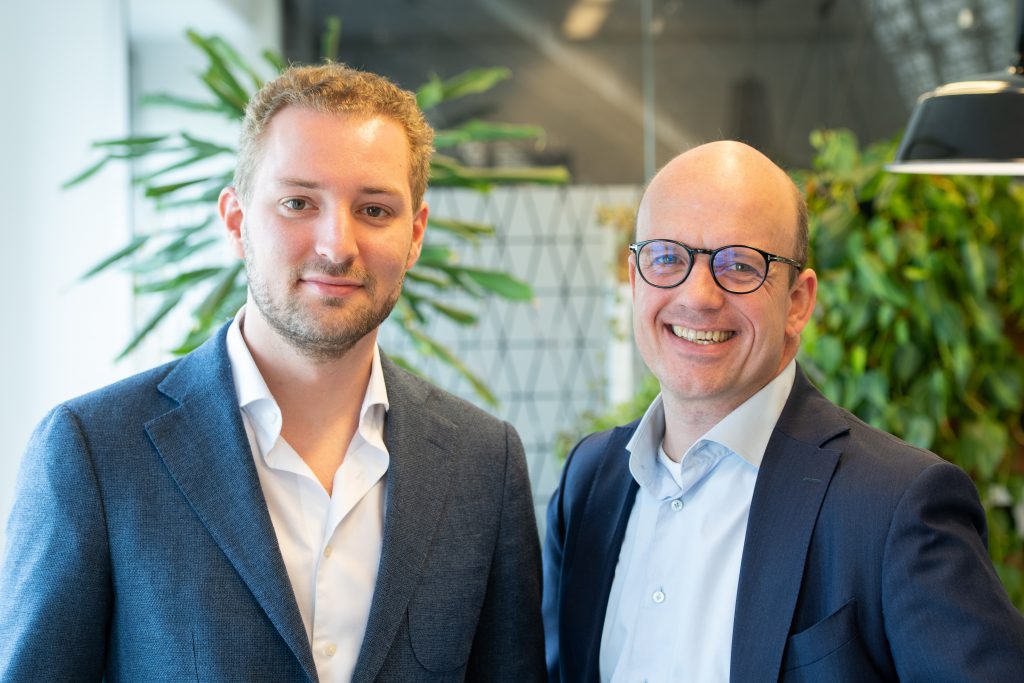 Every month we feature a new startup at Fundsup that forces a radical breakthrough. This time we chat with Leon van Leersum, Co-founder Vendr.
Hi Leon, can you tell us a little bit about yourself?
Vendr was founded by Maurits Dijkgraaf and myself. I've been a real estate professional for all my working life in various roles, in and outside The Netherlands, with a passion for innovation. Maurits is a business engineer and also co-owns a B2B software company.
What exactly is Vendr about?
To date, selling real estate is a complex activity with many stakeholders and a lot of mundane activities are manual and repetitive. The process is dominated by the use of email, spreadsheets, powerpoint and, sometimes, a data room. None of this is integrated and it lacks decent structure. All in all a prominent risk of costly mistakes.
Our mission is to create an end-to-end dealmaking platform where all stakeholders in the commercial real estate industry can collaborate effectively. We will rocket dealmaking into a new era, using next-level technology.
We have built a platform for selling commercial real estate efficiently. At Vendr we offer real estate brokers a platform on which they can make a stunning online presentation that can be easily shared with prospects. If prospective buyers are interested in proceeding and receiving confidential information, it is just one click, digitally, to agree to a confidentiality statement and request access from the broker to the data room. And just one click from the broker to grant or revoke access. It also allows buyers to apply for site-inspections in predefined time-slots, ask questions and receive automatic project updates. All of this is supported by automatically generated emails.
Vendr is partially white label: any client-facing material from the broker is branded with its own logo and brand colors. For auditing purposes, everything is logged in a file that can be reviewed by the broker: registrations, modifications, and communication. That is something that is non-existent in a broker's practice. Not even the big firms.
Where do you see its main application?
Real estate brokers use Vendr specifically for transactions in commercial real estate. We provide them a platform to transact efficiently. Properties to be transacted may include offices, warehouses, industrial, retail or any other property investments (such as leased residential blocks). The basic principle of doing a transaction is the same and Vendr can be adapted according to the specifics of the deal.
While the transaction is orchestrated by the broker, you can imagine that each of the stakeholders in the process, including the seller and the buyer have their own customer journey. We see a lot of opportunities here. Just think about valuations and financing.
"..using Vendr means eliminating a lot of inaccuracies and risks from the process."
What is the impact of your business?
What we clearly see is that brokers that use Vendr save themselves a lot of time by removing all the manual and repetitive work. It is a real time saver. Our easiest payoff is "do more transactions in less time". But using Vendr also means eliminating a lot of inaccuracies and risks from the process. Property sales involve substantial transaction sizes and mistakes can be costly. At the same time, potential buyers benefit from the user-friendly process. We will be adding more features that will greatly help all participants to close transactions more effectively.
A side effect that we had not foreseen is that brokers are starting to use Vendr as part of their marketing towards property owners. Using Vendr becomes a mark of professionalism, innovation and compliance.
When are you planning to go to market?
We launched our MVP in de second quarter of 2019. We had clients from day one that partially funded our first release and they have helped greatly in providing us with valuable insights into this specific market and showed us their frustrations as well as the areas where we could achieve immediate improvements. Since then we have had a few minor releases and we are planning a major release in the course of August.
"…it became apparent that the traditional real estate business is ripe for innovation and disruption."
Where do you stand right now?
With the upcoming release, we launch in August 2020, we have made some substantial changes. These are a result of thorough client sessions. Our 15 initial customers have helped us greatly in providing feedback. We will be making some of them very happy and I know that with these changes we will have others that will be ready to onboard. We have also made a substantial change in the framework. That is not visible to the users, but it will sure help us to make further releases more frequent and allow us to respond even more quickly to additional requirements. We now have 15 clients, more than 100 projects, and almost 800 users.
Covid-19 caused delays in real estate sales. The market activity in transactions is significantly down compared to previous years. At the same time, it became apparent that the traditional real estate business is ripe for innovation and disruption. Many brokers are receptive to using digital tools and to do their work remotely. We are positive about how this will accelerate the growth of Vendr.
Who has invested in you and what kind of investors are you looking for?
The pre-seed phase is fully funded by the founders and with the revenues that we have generated thus far. Until now we have been operating on a very lean basis. Now we have a well-tested and built market-fit, we have shown clear traction and we are ready to accelerate. We are ready to scale up quickly in numbers of clients and we have a clear roadmap for additional features and products. We are looking for an investment of 350k euro in ticket sizes from 50k. In this seed round we are offering convertible notes that get a discount once converted into equity in the proceeding round.
What would be the ideal investor match?
The ideal investor is experienced or affiliated with real estate, finance, property valuations, data or rapid growth. Anyone with a relevant network that could accelerate our growth is a welcome addition.
Best of luck with everything!
Thanks, check out our pitch deck on Fundsup: https://api.fundsup.co/go/6CDnyt-FO