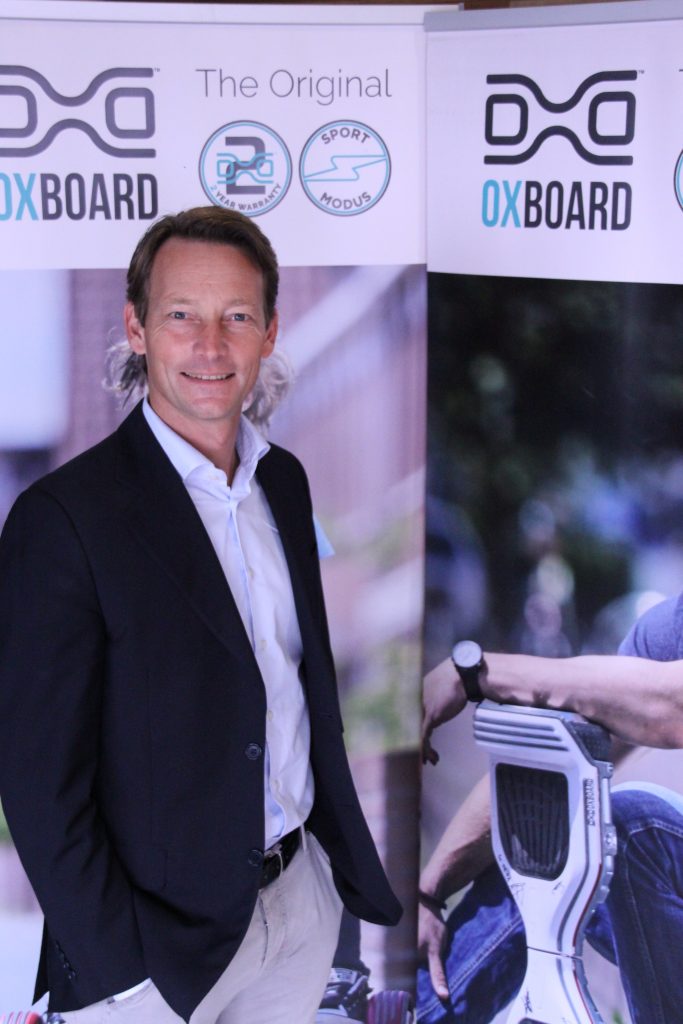 In "How I invest" we interview top Fundsup investors about their investing style.
In this How I Invest, I've interviewed Mark Collée – a corporate professional turned entrepreneur/investor. Mark talks about the motivations for his choices and how things worked out for him as lead investor and CEO of Oxboard – the hoverboard company, famous for being the first on the European market in 2015.
Read the Dutch version on Emerce.
Good morning Mark, can you tell us a little bit about yourself?
Absolutely. I am 50 years young, after some automotive experience I started my career in the toy industry. I started out in Germany (Nuremberg) where I worked at the headquarters of Zapf Creation AG, famous for their Baby Born® doll – my first job in the toy industry. I initially looked after some European markets and German key accounts and then set up the Benelux office for them. After about four years I did this same exercise for RC2 Learning Curve, a US public toy company, and extended my responsibilities on a more European level. Then Tomy – a leading global Japanese toy manufacturer – acquired RC2 and I became responsible for sales in EMEA. In 2015 I started to doubt whether I wanted to continue my corporate career.
Originally I come from a very entrepreneurial family (both my parents had their own companies), but I never dipped my toes in the entrepreneurial waters until then. I decided to take the plunge and in 2016 I drew a line under my corporate career. I started out doing some consultancy work and built up a piggy bank to be able to make an angel investment into Oxboard in July 2018. At the same time I also became the CEO.
Why made you decide to become an early-stage investor?
I have, of course, asked myself more than 10 times whether or not I should take this entrepreneurial route. I have made one hands-on investment so far that made me a majority shareholder of Oxboard. Before I finally sat in the civil-law notary's office to sign, I hesitated for a long time. In the meantime I can confidently say that I've learned so much in the past 2 years as an entrepreneur compared to when I would have been hanging around in a corporate environment. Including learning a lot more about myself. Entrepreneurship gives one a lot of self-satisfaction.
What's your investment strategy and how did you choose your first investment?
I really wanted to add value and invest all my time, knowledge, network and some money in just 1 startup. Call me extremely focused, but at this stage that works well for me. So I focused on Oxboard, as I saw potential in this company – something others apparently didn't see. The company's purpose was definitely in line with my experience and network. I saw that their brand awareness, brand (potential), and quality was really there. I believed that I could give this company the direction and growth it needed.
Oxboard was the first hoverboard company out there. But they were struggling with finding out who exactly their customers were. By the time Oxboard found out what kind of company they really were, the competition had already caught up. While Oxboard was still focused on building a product to solve the "last-mile solution" (such as transport from train to office), the competition was selling their hoverboard to kids as that was where the demand really was. Oxboard was also still debating a lot with ministries, trying to get hoverboards legally on the road. They just put a lot of effort into this while competitors were successfully selling their products to kids.
In summary: admission never took place and the Chinese started driving their production up, bringing the retail pricing down quickly. At that time the hoverboard became mainly a children's board. Hoverboards ended up in the Electronic Retail chains and at toy shops because of its lower prices. I joined them at the exact time when Oxboard had missed the opportunity and the products of the competition took the shelves in shops.
Today Oxboard is back on track. I have made the contribution I expected to be able to make. I have expanded the European distribution (on and off-line) and we have enlarged our assortment in the meantime with e-scooters. There are no turnover problems but there are of course still enough issues to solve. The pandemic situation causes challenges in the retail landscape here in Europe (shift in demand and retail channels) but also from the sourcing side in China. So we have encountered for example more out of stock issues than we expected. And also entering a new category with our e-scooters gives us challenges, but fortunately more opportunities!
"My added value is to create a focus in the company and let it choose the right battles and direction."
What's your motivation to invest in startups?
Looking to the future, I want to take Oxboard from her childhood to adolescence. As soon as this is the case, I'd like to put someone in my place so I can take on a new project that I can then step into again – in the same way. But I expect to still be working on Oxboard for at least another 1-1.5 years to bring the company into a more stable and adult phase.
How much time do you dedicate to the company you've invested in?
Oxboard currently takes up around 80% of my time, but in the first year the full 100%!
What's your passion?
I have the experience that, unlike corporate employees, you don't have to motivate startup founders/partners at all – they are simply motivated. But, in order to focus and grow as a real company they need relevant guidance. I enjoy bringing people together, let every individual excel where he/she is good at and enjoys. And bring that team together with the right strategic direction.
What's been your biggest screw-up?
I define that as "situations that happened that you did not expect to happen". There have been many of these situations. Two examples:
I started out at Oxboard on Aug 1st, 2018 and immediately boarded a plane to China to understand our sourcing better and meet suppliers and visit Chinese fairs. I came back and when I stood at the baggage belt at the airport I found 16 new messages with the news that the Dutch government removed all hoverboards from the shelves in the entire country, because they were thought to be unsafe. This new reality was even worse than my worst-case scenario I've defined…
In Feb 2019 there was the world's toy fair in Nuremberg, where we due to our new direction participated for the first time. Coming back from the fair and hearing that our number one customer was declared bankrupt.
You simply have to pick these issues up, come with a plan, solve/cope with them and move on. This kind of thing throws a lot of things into confusion. Learning moments!
"Entrepreneurship gives one a lot of self-satisfaction."
What's your biggest success so far?
I am most satisfied with market leadership in The Netherlands and the wide international expansion that we've achieved with Oxboard – they are the steps we wanted to take despite the setbacks. Is that the biggest success? It is a result of the changes we have made in the company all together, which brought us this result. But also opening up new categories, which isn't always successful, are important steps which bring us forward in the right direction.
What are you looking to invest in next?
The basis for really looking at something new for me is whether I can contribute enough myself and if I know enough about the business model. I'll initially focus on consumer goods with a strong brand- and international potential. But to answer your question bluntly: in the end I'd base it on gut feeling. In the end, it's people's business.
What would you bring to a startup?
Startups can jump from left to right at any time, changing course a lot. My added value is to create focus in the company and let it choose the right battles and direction. This is also my drive to be an entrepreneur – that your startup does not become a screwup! Startups need to learn which fight to choose. My international leadership experience combined with marketing and sales could add to get a company faster towards its goal.