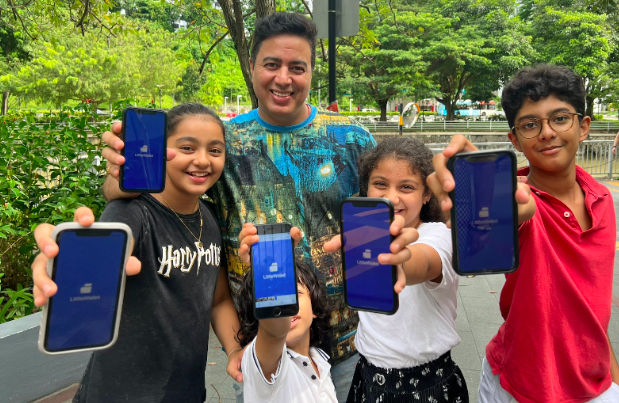 The goal is to be the first multi-generational superapp in South East Asia. Starting with educating children in sound finances. We talk to Rahul Sharma, founder and CEO of Little WalletTM.
A Dutch translation of this article can be found on Emerce.
How did Little WalletTM come into existence?
"It started while I was working before I started my MBA at INSEAD. The idea came from my son. We were traveling to the USA and Canada. We discussed that there was no real safe way to provide my kids with their own money during the trip. And he suggested I'd go and create a solution. What we created was something for kids which is called Little WalletTM. We wanted to launch in 2020. Then covid hit and I got selected in INSEAD in 2021. I used that time to do some market validation. Little WalletTM is a debit card and an app suitable for kids between 6 – 18 years old to provide a safe way to get them financially educated."
Out of 109 applications for the INSEAD startup pitch, Little WalletTM got in and we were in the top 5 finalists.
"We have built the product in a short period of time and in fact I am delighted to share that thanks to our dedicated team's hard work, the Little Wallet app with virtual money is now available to download in Apple and Google Store. This is a major leap for us towards launching our full scale app soon.
As a start we are planning to launch first in Singapore followed by Indonesia and Middle East."
Are you currently looking for external funding?
"Right now, we are looking for $0.5 million to launch in Singapore. Until now we have received funding from friends and family and some of my fellow students in the India & Asia cohort stepped in as well. To be able launch in South East Asia and the Middle East, we are looking at a funding of $1.2 to 1.5million."
How will you spend the money that you raised? I am guessing marketing, when it comes to launching?
"Marketing is one of the top elements. Currently, we don't have our own banking license. There are hefty fees involved for this. As a fintech, security and encryption are important. So we need money to do that well. These are the three main components. And salaries of course."
How do you see the midterm future for Little WalletTM?
"After starting in Singapore, we will expand to SouthEast Asia and the Middle East. Then scale it and add more features to the product. This app is not just for kids. It's an app for the entire family. Parents can invest for school and university costs as well. In the next five years we are projecting a steep growth both in terms of users and volume."
Does a dream investor bring in anything else besides financial capital?
"If they have expertise in business development and marketing, they can certainly support us in that direction."
More information:
More information for investors on Little WalletTM can be found on Fundsup: https://api.fundsup.co/go/E-35Cpk9GX
Little WalletTM is connected to our newest partner INSEAD. You can follow its growing portfolio of connected startups on the platform.