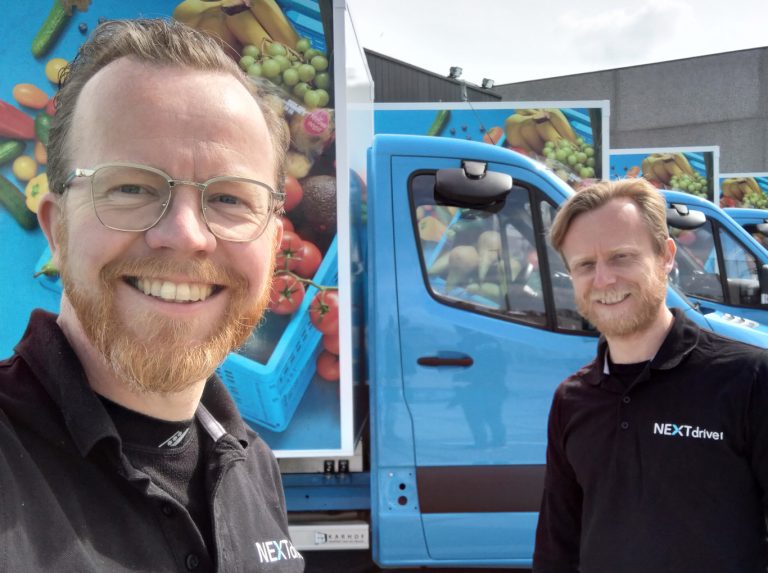 NEXTdriver analyzes data from truck drivers and helps them drive better, safer, and more efficiently. By doing so, they not only assist the drivers but also the companies they work for. Guido Sluijsmans, founder and CEO of NEXTdriver, explains what the company does exactly and how they plan to grow. For the latter, they are looking for an investor with relevant expertise.
A Dutch version of this article can be read on the website of our partner: Emerce.
Can you tell us about your background and how your company started?
"After 10 years at TNO, my personal growth stagnated, and I missed the implementation of beautiful innovations. During my time at TNO, I developed a passion for the psychological aspects of mobility. With a piece of technology that was developed, we wanted to support the logistics sector in driving safer and more economically. In 2015, I started the company with two other founders who were doing their (graduation) internships at TNO at that time. We had great technology, but we had to conclude that it didn't scale enough. In 2019, we made a change in direction, discontinued the original product, and started from scratch. Now, with NEXTdriver, we offer a scalable solution for the logistics sector. Interestingly, the earlier technology is now coming to the market through smart AI dashcams."
Can you explain what you do exactly?
"NEXTdriver provides drivers with weekly insights into their driving behavior, and we coach them monthly. This coaching is done by real people, experienced trainers, or former drivers. It's smart and efficient: the logistics industry often lacks personalized attention and, above all, compliments. We help individual drivers drive more economically, safely, and comfortably, and we also assist them with any internal issues they encounter."
Could you tell us more about your data platform and coaching process?
"Our data platform uses data from on-board computers, which are installed in almost all trucks. We have already integrated sixteen different suppliers into our platform. These on-board computers measure driving behaviors such as idling, hard braking, and cruise control usage. We provide drivers with weekly insights into their scores. In our app, they can communicate with their coach using our built-in chat function, similar to WhatsApp. The coach can be our own or the company's coach.
We deliberately chose a chat function because drivers are difficult to reach by phone due to their irregular schedules, and when you have them on the line, they often want to talk for a long time and appreciate that personal attention. This makes it unprofitable. Additionally, we don't expect an immediate response. They can respond when they have time and are stationary. Drivers are highly motivated and want to excel in their profession or become even better. We support them in that, and it ultimately benefits the company as well."
Can you share some statistics about the impact of your solution?
"Our solution focuses on reducing fuel consumption and CO2 emissions. With reductions between 3% and 8%, we make a significant contribution, which also increases the company's profitability. Additionally, we improve (road) safety, and we have seen accident reductions of up to 47%. As a rule of thumb, one euro saved on fuel leads to two euros in reduced downtime, damages, etc. This significantly reduces the risk for logistics companies.
It is also essential to keep employees sustainably employable. Sometimes, we advise drivers to have a conversation with their supervisors if we see that their performance is declining. For example, we once encountered a situation where a driver had to admit that he had sleep apnea but was afraid to share it. If we hadn't intervened, it could have ended badly for the driver. Even more satisfying are the great responses from drivers who say that after 20 years of driving a truck, they now feel much more relaxed behind the wheel. Finally, our platform helps address the staff shortage. Companies often don't have time to focus on driving behavior, or an internal mentor driver is busy with other things."
How does your solution help companies commercially?
"Companies need to become more sustainable to retain customers. This will become even more stringent with the upcoming ESG reporting. Ensuring safety and CO2 reduction are crucial aspects for the clients of logistics entrepreneurs. A logistics entrepreneur with 70 to 100 drivers can purchase one new truck per year with the savings from NEXTdriver. Additionally, there is less wear and tear and fewer damages. We also help the company remain attractive to their drivers through our reward module, where drivers can receive, for example, a dinner voucher or a nice company gadget based on their scores. In Eastern Europe, financial rewards for good performance are more commonly linked."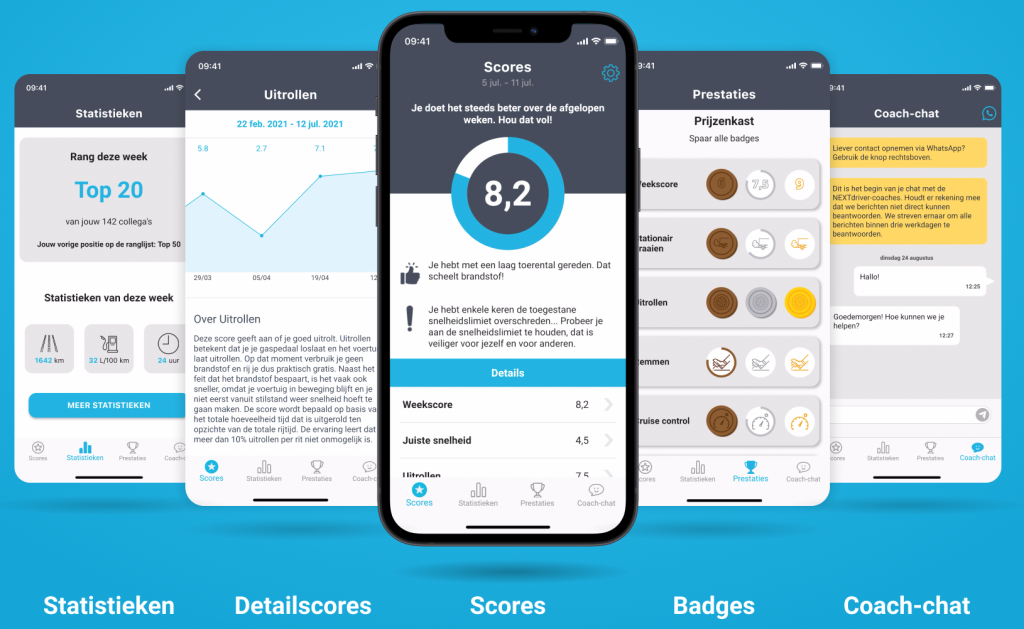 Could you tell us about your customers?
"We have dozens of customers, including Schenk Transport, a company that supplies fuel to Shell gas stations, among other things. We also support the delivery drivers of Albert Heijn (a Dutch supermarket chain). International players like Kühne + Nagel are also our clients. We work with their locations in the Netherlands, Belgium, and Romania. Our goal is to be the number one in this field in Europe. Therefore, we are currently validating the German market. To achieve that goal, we have a scaling strategy. Collaboration with local trainers is part of that strategy. They are already in contact with entrepreneurs and drivers. With our tools, they can continue to support drivers after their training. They understand the language and culture even better, and it gives them an additional revenue stream."
What does your team look like, and what are your growth plans?
"Our team currently consists of ten men and women. The majority of our developers are women, and we are very proud of that. We build everything ourselves and pay a lot of attention to providing good customer experience and support. We also have our own coaching team and, of course, a Sales & Marketing team. Jasper Pauwelussen, CTO, and I are part of the management team. We are growing steadily, despite all the crises since we started NEXTdriver in 2019. We want to expand our sales team, grow our partner network, and intensify our marketing efforts to ultimately increase our impact. Additionally, we are working on expanding our services, which are already being sold. After the Netherlands and Belgium, it's time for Germany and other countries. Above all, our team deserves more recognition and support in their professional and personal development."
Are you looking for investors?
"Absolutely! We are looking for a party that wants to invest in our seed round next year. A company that understands the sector we operate in and has the knowledge and experience to accelerate further growth and can challenge and support Jasper and me. We have had sufficient validation and continue to grow. Just with our current customer base, we have the potential to grow by a factor of 4, and this year, we expect to achieve profitability. We are also open to parties that want to invest now with a convertible."
More information about NEXTdriver for investors can be found here.