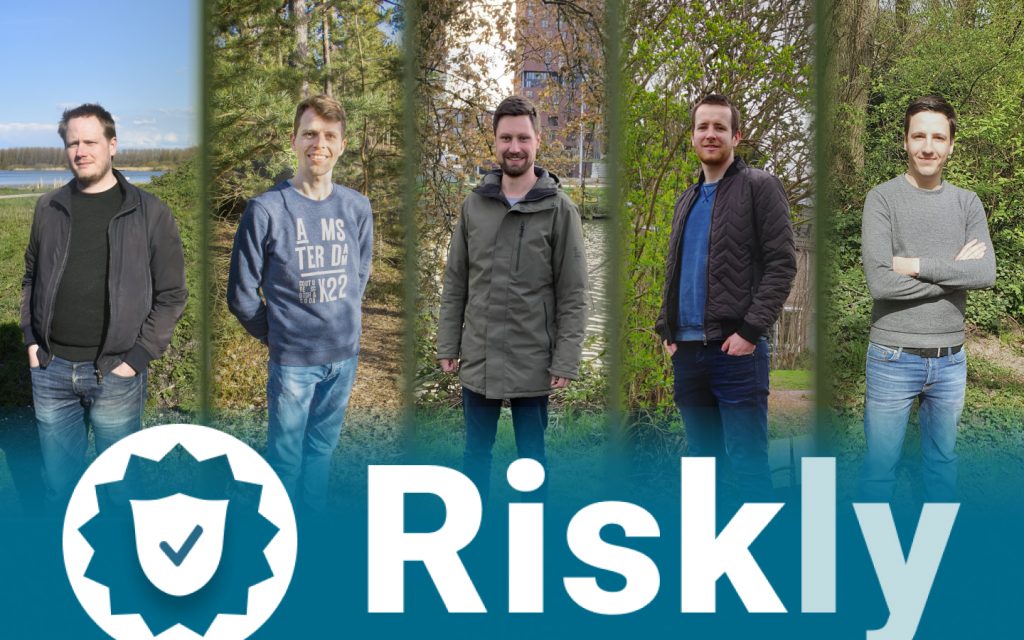 Read the Dutch version on Emerce.
Every week we feature a new startup at Fundsup that forces a radical breakthrough. This time we chat with Michiel Bouw, Co-founder of Riskly.
Michiel, what exactly are you doing?
My name is Michiel. Together with John, Bas, Jeremy, and Brian, we founded Riskly. Our team's mission is to help organizations create and maintain robust and trusted relationships with their partners and suppliers by easily and automatically managing the risks involved. We provide customized services, automation, and a SaaS platform to help teams manage their relationships with third parties, which leads to controlled risks.
The experience of our multidisciplinary team of 5 founders finds its roots in startup and scale-up environments, mainly working on business software products (SaaS). Jeremy's, Brian's, and my background lie within software engineering in various roles and teams, while John and Bas bring security, privacy, and risk management experience. We believe that the combination of our expertise gives us the edge we need to succeed.
What are the problems you solve?
Any organization that wants to achieve its goals has to conduct work that is not part of its key focus and critical competencies. Sometimes these competencies are onboarded into the organization. Other times key competencies are outsourced to dedicated partners. For this reason, organizations are relying heavily on third parties. While there are various good business reasons to do so, they also bring unknown risks to those organizations. Third parties identify as severe and simple to abuse security threats over and over.
"Data breaches, hacks, and many other issues come from third-party software; this could easily be avoided by managing the services properly from the start of the relationship until the end."
What is third-party risk management, and why is it important?
Third-party risk management is the process of identifying, assessing, and controlling threats and other potential risks presented throughout the lifecycle of your relationships with third parties. Dealing with these threats starts during the initial onboarding and extends through the end of the offboarding process.
The challenge of third-party risk management lies in the fact that relevant risks occur at different times when suppliers or partners are in use. For example, there could be risks during onboarding and while the third party is in use, or later when the organization wants to terminate this relationship. An organization should address the risks at these different points accordingly.
Managing the risks involved in the relations organizations have with partners and suppliers requires repetitive manual tasks and burdensome communication. The lack of time and money is causing a lack of attention to detail and an increased risk of abuse.
Not being in control of these risks may have a significant impact on your organization. Looking at it from a security perspective, for instance, you may have taken all appropriate measures to protect your organization from hackers, but if the third parties do not take these measures into account, your outsourced services may be at high risk.
What is your solution?
Riskly offers an online platform that makes controlling the security, privacy, or financial risks of your organization's suppliers and partners easy. We help you take control and save time by managing these third-party relations in an automated way.
The platform also goes one step further in terms of assistance. We currently support the organizations using third parties to manage them, and we also aim to provide support for the third parties themselves. Right now we are extending our platform with features that help reduce the time spent by third parties on providing similar data to different organizations over and over.
What is the impact of your business?
More and more, we see data breaches happening at companies and services where we never expected them, for example, with the recent SolarWinds breach that hit the US government and Microsoft hard. At the same time, these breaches have an enormous impact on the people whose data was exposed. It is crucial to have control over whom you work with to provide a secure and trusted service to your customers, even if your customers are not immediately aware that this is something you are doing.
"We believe organizations should be able to trust their partners; that trust should be easy to gain or be immediately implicit from community evidence."
Riskly enables organizations to efficiently manage the possible risks that come with these third-party relations. We don't want to be simple data storage but also want to remove friction by improving communication and adding a history database with scoring to make the processes more accessible and less repetitive for organizations. Our tool saves time and, next to that, reduces risk and friction in third-parties management.
Where do you stand right now?
The Riskly online platform is evolving from a minimal viable product into a comprehensive platform for both organizations and vendors. We started developing our platform at the beginning of 2020, and we launched the first version of our platform in December of 2020. We are now at the point where we are selling our primary services. The current platform allows organizations to manage any third-parties risks in an easy and automated way (that could possibly become a threat to different stages of their relationships). We also have many great ideas to improve and extend our services. Our team currently focuses on defining, building, and enhancing user experiences and developing the platform further.
Next to continuous development, we are trying to gain momentum on the market by reaching out to potential clients and creating online content to help organizations understand why using the Riskly online platform to manage their third-party risks could help.
What kind of investors are you looking for, and what would be the ideal investor match?
Up until now, we bootstrapped our company without any investments. Our current team has a solid technical and market knowledge that we have leveraged for a while without funding, but we lack some much-needed skills to help us grow further in other areas. We are looking to grow our business development processes. We expect to add people to the team to help us get more customers to our platform and develop further on different levels. Some funding is needed for us to start expanding our knowledge in this way. An ideal investor would provide or help us find the experience we lack to grow our business further.
Best of luck with everything!
Thanks, check out our pitch deck in the Fundsup app: https://api.fundsup.co/go/spqI_w_QwL