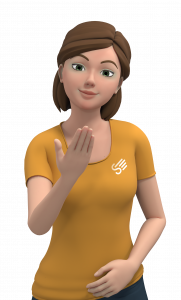 Georg Tschare is the CEO of Sign Time. The company is active in an interesting industry in a digitized world: that of sign language. We speak to him about the road so far, the market and the dreams for the company in the near future.
A Dutch version of this article can be read on the website of our partner: Emerce.
What is it that you do at Sign Time?
We translate text into sign language to make the world barrier free for the deaf. We have different products. We translate texts from websites, mainly from Germany since their laws are very strict on this. We translate package leaflets for medicines. And we translate loudspeaker announcements in real time and automatically in public transport
In what stage is the company now?
We have about 12 employees consisting of translators & linguists, 3d animators, software developers and technical artists.
What was the reason to start?
We are a spin out of a training company for deaf people called Equalizent. It is the biggest private company in this industry in Europe and is based in Vienna just as we are. They wanted to scale up and translate mass content which led to the decision to develop their own technical solution.
How has the company been financed up to this point?
In the first years we grew mostly by means of our own capital from the other company. We have raised some R&D funding from the Austrian government, the Viennese local government and the EU. Our first round of 100k external financing came from a private investor and the next 200k as a subordinated loan from a bank. We also raised 400k in equity from an institutional investment fund.
So now you are also looking at informal investors. Any people in mind in particular?
Sure there are dream investors. We would prefer impact investors and/or investors with a network within the media sector. They will see how our market is and that we have no competition. We are currently looking for 1.5 million euro. We will spend the money raised on further developing the product, R&D work, business development and scaling the team. Our business is scalable, so smaller amounts or higher amounts would work as well. With a higher investment amount we could extend to other countries.
You say you have no competition in Europe. Really?
There are just three companies worldwide on the market right now. We are the leader technology wise.
Some teams in Europe are working on comparable ideas. They will need at least a year.
One competitor is in Brazil. They are focussed on the South American market. The other one, I think the stronger one, just serves the Korean and Japanese market. We have a good relationship with them. If they would jump to Europe, we would enter a partnership.
What if you could get your hands on double the amount that you are looking for? What would be next on the wishlist?
We would invest in growing in the United States. It is the biggest market. Canada uses American Sign Language and other countries use related languages. We also know it's not so easy to enter that market. You need money and speed. We have a respect for that market, but we would try. There are some universities who do research there, but they don't have a developed product yet.
More information:
Does this company in this market sound interesting to you as an investor? Read more and connect with them on Fundsup: https://api.fundsup.co/go/TK5VhcCxnd