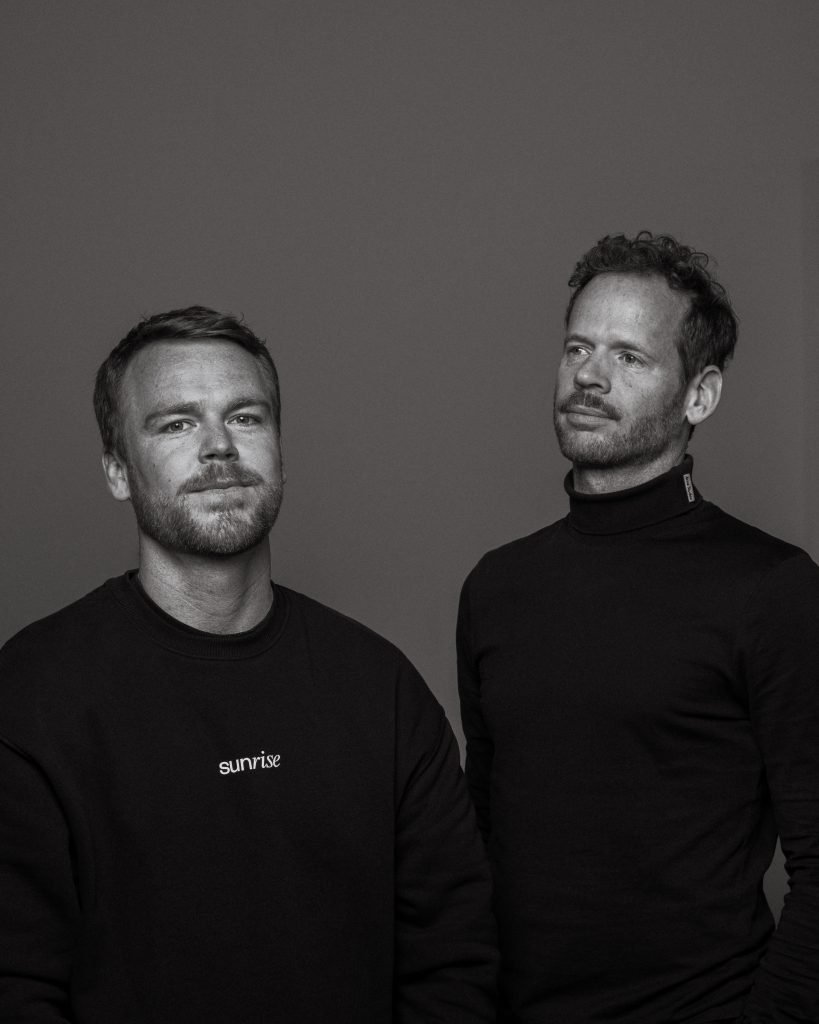 In this interview, we speak with Ruben Smit about his background in consumer behavior and advising startups, his passion for addressing issues related to health, food waste, and sustainability, and the founding of Sunrise. Its goal is to revolutionize consumer behavior by using AI to create a personalized, sustainable, and healthy lifestyle solution that focuses on seamlessly optimizing daily moments.
The startup is currently seeking funding to expand in Amsterdam and San Francisco, and it believes that its model has the potential for significant economic and environmental impact by transitioning from an outdated, linear one-size-fits-all model to a circular, personalized, and sustainable approach. Ample reason for a conversation, indeed.
A Dutch version of this article can be read on the website of our partner: Emerce.
Tell us a bit about your background.
"I have always worked as an entrepreneur in consumer behavior and advised many startups. For the past five years, I have been studying awareness related to food, innovation, and sustainability for an average of 40 to 80 hours per week. I have a passion for addressing issues related to health, food waste, and sustainability, and the creation of Sunrise. Our aim is to revolutionize consumer behavior by using AI to create a personalized, sustainable, and healthy lifestyle solution that focuses on seamlessly optimizing daily moments."
What motivated you to take action?
"I truly despise supermarkets; I consider our current food system a disgrace. I find it appalling how people are forced to live in a system that doesn't serve humanity and our future in any way. All the labels, mountains of waste, plastic, and the worthless products that poison our lives. The lack of any form of responsibility. The lies, the lobbying, obesity, cancer, diabetes, Parkinson's disease, global warming, deforestation, chemicals, addictions. The cruelty in the meat industry, the depletion of our oceans. I'm truly puzzled by what we're all doing. At the same time, I see a growing demand for a new way of consumption, even a new way of living, and that's why I decided to start my own company."
What is Sunrise's business?
"Sunrise arose from the realization that introducing new products to the market alone is not enough to effect change. We need to create a new model because the current supermarket and e-commerce structures form a system that can never be healthy or sustainable."
Do you see a demand for a different approach?
"People are actively looking for innovative products and methods, while the existing market doesn't meet those needs. This is called the aspiration-action gap, explaining why people talk about sustainability and health but their behavior lags behind. This is simply because the effort required to live up to your aspirations is too significant. But let's face it, ultimately, everyone just wants to be healthy, and almost everyone wants what's best for our planet. Imagine what happens when you make this option the easiest, most enjoyable, and best option."
What does that mean concretely for you?
"I have always had a strong interest in artificial intelligence and studied neuroscience before focusing more on AI. I see that AI offers us the opportunity to develop an entirely new consumption model rather than just optimizing existing processes. A model that surpasses the current model on all fronts. This led me to give up all my other activities to focus entirely on Sunrise, where I've been working with a healthy obsession for over a year (120 hours a week). Sunrise is focused on a new way of consumption, supported by advanced technology. We want to help people make more sustainable choices in both products and daily habits, and we do so in a way that's much easier than the current system. So, the consumer wins on all fronts."
What sets your approach apart from others?
"What makes us different is our focus on using AI to significantly improve people's lives. Sunrise is a Consumer Lifestyle Solution that seamlessly aligns with individuals' daily life moments and optimizes them for health and sustainability. Our integrated approach saves people a lot of time while greatly improving their quality of life."
How do you achieve that?
"Using advanced technology, including AI, we streamline various aspects of daily life and provide an all-in-one solution. We have a unique, super-smart AI concierge that offers advice, answers questions, and helps people integrate their personal goals – like living healthily, intermittent fasting, or raising a child – into their daily routines. We offer a highly personalized app that quantifiably optimizes people's lives based on science. Moreover, we select and curate a wide range of daily products based on this data and our unique 'goodness index,' and we are committed to a decentralized, circular system. It may seem like a lot, but the integration of all these elements makes everything very compact and manageable."
This integrated approach allows us to build a direct relationship with consumers and provide real-time feedback to our supply chain while gradually introducing more complex optimizations and additional products. A constant feedback loop where our self-learning model will continually improve. This, in turn, leads to strong network effects, a more efficient operation, and constantly improved unit economics."

What does this look like for a customer on a typical day?
"On a regular day, we automate everything that's really boring, from your toilet paper, fruit, to your granola or baby food. Everything you need on a daily basis but have to think about or often forget. We help people optimize what's desired and discover what's enjoyable and beautiful. And all of this is fully personalized through our app."
How often do users receive this kind of input?
"We deliver this to our users twice a week through our circular packaging system. Because this base is delivered twice a week, they can easily add extra products, meals, and moments, and everything is always super fresh and waste-free."
Are there competitors in the market offering something similar?
"There are some solutions that come close in certain aspects, especially in the United States. For example, there are companies like 'The Rounds' that use advanced automation, but they don't have the approach we have in optimizing consumers' lives around health and sustainability using AI. Furthermore, there are the large AI models, but they are all generic and passive and will never offer the specialization that our narrow AI model provides.
How are you approaching the market?
"We plan to tackle both markets. My co-founder is returning to the Netherlands to run a second pilot in the coming months. The plan is to target the U.S. market immediately after the beta phase in Amsterdam. We are already in the process of setting up our headquarters in San Francisco."
Regarding funding, what are you looking for in that regard?
"With angel investment, we have already developed a unique product that we can launch. This allows us to test our new UI and scale our operations. At the same time, we want to gradually integrate new technology and work towards a large-scale launch in Amsterdam and San Francisco. This will all take place over the next eight to twelve months. For this, we are seeking a 2 to 3 million euro pre-seed investment. There are already productive discussions with (mainly international) VCs, and we aim to have this completed by the end of the year."
In brief, what is your pitch for interested parties?
"For investors, this offers a unique opportunity because we provide an integrated solution for consumers' lives related to health and sustainability. This is a billion-dollar market where no one has yet provided an accessible, scalable answer. Although it's a new model, the market has enormous potential, as we are going to structure our users' entire lives, and our average revenue per customer can reach up to 1,000 euros per month. With a successful blueprint for Amsterdam and San Francisco, we can quickly expand this model to other major cities with a similar target audience. We see significant growth opportunities and are looking for investors who want to support us during this initial growth phase, have a preference for creativity, and believe in solutions rather than obstacles.
We offer an economic opportunity with promising returns. We anticipate high revenues and gross margins because we source directly, run a highly efficient supply chain, and aim for a gross margin of 45 percent on our products."
Is replicating your model in other markets easy to achieve?
"Yes, because we focus on moments rather than products, we can establish a decentralized distribution model. We can work with local supply chains and seasonal products because our model revolves around moments in consumers' lives. Our AI optimizes these moments for health, sustainability, and cost savings. Since we use local supply chains and startups, replicating our model is relatively straightforward. Furthermore, increasingly richer data models and network effects make scaling very attractive."
About distribution: what does that look like?
"In Amsterdam, we use e-bikes for deliveries. We have designed a circular logistics model that allows us to deliver fresh products and reduce food waste. We deliver to all our customers twice a week as a standard, and this can be easily automated using AI. We typically stack ten orders on e-bikes and deliver to ten households simultaneously, using clever 'milkman routes.' During these rounds, we collect empty containers and food waste, which we process in our hubs. In the United States, we are exploring suitable delivery vans for more dispersed areas."
Can you say something about the expected impact of your company?
"We make a significant impact by actively guiding people towards a healthy and sustainable life, which leads to substantial CO2 savings and a reduction in waste. While literally adding years of good quality life to our customers. So, investors can not only benefit from a highly scalable and profitable business model but also contribute to positive change for people and the planet.
How do you see the combination of a business model and responsible entrepreneurship?
"What we are doing is shifting from a linear 'take-make-waste' model to a circular 'reduce-and-reuse' model that aims to be 100 percent healthy and sustainable, with a focus on the long-term growth of the user. We are changing from a model focused on single sales to a model centered around personal growth and reuse, all made possible by AI."
More information about Sunrise for investors can be found here.