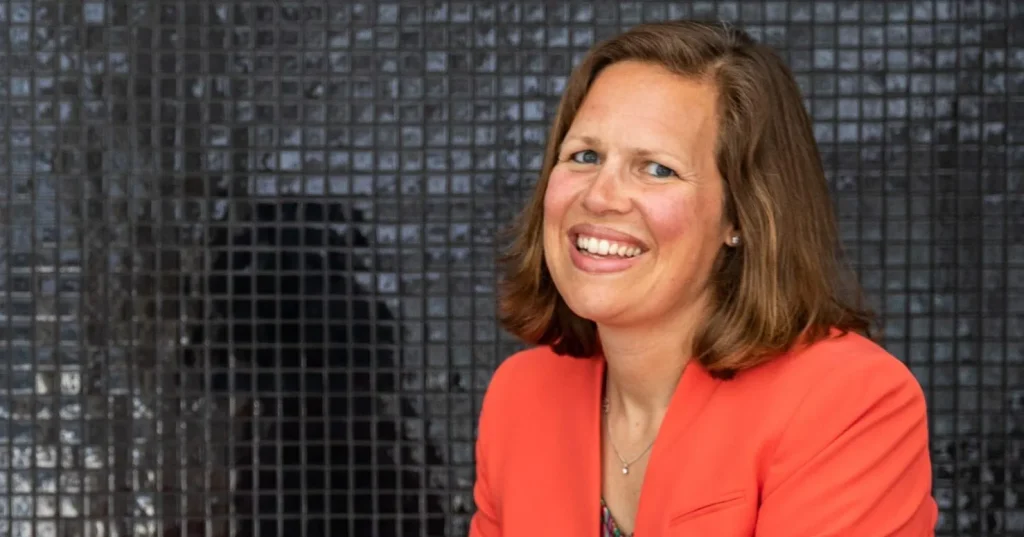 In "How I invest" we interview top FundsUp investors about their investing style.
In this How I Invest, we speak to Tessa de Flines.
Tessa has Dutch parents but was born and raised in the US, so she immediately asks whether we will do the interview in Dutch or English. After a corporate career path that took her from advertising to an MBA to process improvement and strategy and from General Electric to ABN AMRO, she entered entrepreneurship through an acquaintance. It opened her eyes to the impact she could make in smaller companies. And that gave her an energy boost.
After two ad interim COO roles at small companies, she decided she wanted to work ON businesses and not IN businesses. Just before Corona, she met her partners for Masters of Scale. With Masters of Scale, she helps companies with various scaling challenges, often in preparation for a significant financing round. And privately, she invests as an angel. On her own and through angel syndicate Great Stuff Ventures. Reason enough to speak with her about the lessons and experiences she has gained from all these activities.
Read the Dutch version on Emerce.
Tessa, how did you start investing in startups?
"I was doing advisory work, and it started to itch. I wanted to contribute financially as well.
I have learned that building a good network is very important. Women often underestimate that and don't put enough time into it. Networking has opened beautiful doors for me. For example, I came across Great Stuff Ventures more than a year ago through a former ABN AMRO colleague. That is my table [Tessa refers to FundUp Investor Tables here]. We make direct investments with twenty people. We're actively involved, so it's a serious hobby. And it has excellent synergies with the other work I do.
I already knew a thing or two about this form of investing. But I still learned a lot by doing it with others. And now, I also invest on my own in addition to my investments through Great Stuff Ventures. "
What are the differences between your investments and those through Great Stuff Ventures?
"I only invest in women when I invest personally because they are underrepresented in entrepreneurship and in receiving funding. For example, I invested in Elfin. I am a strong believer in their mission to equip women with financial knowledge and skills to achieve financial independence. They also connect women to advisors that match the Elfin approach. I also have good advisors, but I make the decisions myself. Take the helm. That's why I support what Elfin does."
Why do you like angel investing so much?
"I was already working with startups and I liked that direct involvement. To be able to make an impact and help the company if they want or need it. I don't have the same passion for traditional stocks, and I outsource that form of investment. I could also have chosen to invest in a startup fund. But I had the desire to invest directly. The choice for Great Stuff Ventures was, therefore, a very conscious choice.
I see 20 to 30 pitch decks per month, and sometimes more. You see so many incredible innovations. You are aware of developments and what that means for our future."
I love to build. If it becomes 'business as usual,' I want to move on. Then I don't find it interesting anymore. It's therefore very energizing to work with people who are also continuously building.
If you see so many pitch decks and entrepreneurs, you must have tips for founders—things they could do more or do less. Could you share some of those?
"What they are allowed to do less is pitch their product. You see a lot of technical people who become founders. Then they are just pitching their product. It is more powerful if they present a solution to a problem. Only some people genuinely talk about their customers and their target audience. I love it when founders are in love with the problem and the customer—wanting to understand their motives through and through.
I also appreciate it if someone has an excellent answer to all the challenging questions we ask. If you prepare well, you are able to think of all the questions in advance. I experienced that recently and that gave me a very good impression of the founder. And they were not the most obvious questions.
Then the last one, or no, actually, I have two more. Passion, to start with. If you have a lot of virtual pitches and you can feel someone's passion through the camera, it makes an impression. You would think: everyone does that. But no, that's not the case.
The last is the art of being short and concise. You sometimes want to tell everything, but then you lose people. The best way is to practice well. And avoid falling into the trap of wanting to add many things. Someone recently told me "Show, don't tell". Few people master that well."
What are you betting on in the next 5 to 7 years? What topics do you find interesting? Are there specific regions you're watching?
"I find healthcare very fascinating. It is more complicated to get innovations implemented. I see a lot of extremely valuable innovations. An example is Augmedit, a SaaS platform that converts 2D images into 3D holograms to prepare and ultimately perform operations. [ed: Find Augmedit's profile for investors on FundsUp here] Run by an outstanding entrepreneur, by the way. I find healthcare interesting because there is so much that needs to be achieved.
I am, of course, in favor of efficiency and process improvements, so solutions that promote this are exciting to me. Solutions that help you do things easier and better.
With Great Stuff Ventures, we don't have a specific geographic focus. Our investments are in the Netherlands but also in other countries in Europe and South America. "We invest in great people doing great stuff."
My definition of great stuff is that it solves a problem that must be solved to improve the world. Not necessarily to only make people wealthier. This also includes climate tech, for example. But not an even better crypto platform."
Have you changed over time in what you look for in investments?
"I started a year and a half ago, so I have a short history. I don't know if I've changed per se. I did experience a huge learning curve working with others. How do they evaluate the opportunity? What questions do they ask? I've been a sponge. I learned a lot by doing and daring to take the step. It is very nice that I could do that in a safe environment. I would have joined a table if I didn't already have Great Stuff Ventures."
When you look at the figures of a startup, what do you pay particular attention to?
"There are other people in my group who dive into that. I look at it at a high level. Are they ambitious enough, and is that ambition substantiated? Also, also as it relates to the market. That infamous hockey stick must be credible."
And if you look at the team?
"Like I said before, passion. And an execution mindset is essential. Only some people are good at execution. I look for someone on the team who is very good at that. Or that the team has gathered people around them who are strong in implementation.
I also look for how customer centric the founders are. And occasionally, you come across entrepreneurs who are loners. Then I wonder if they can lead a team well.
And I pay attention to focus. I sometimes see that companies start spending money after the first millions are raised without clear plans. You need to take the time to make plans and budgets. Anyone can produce high-level plans. You see those very often in preparation for the round. After that, it will never go exactly as you predicted. I pay attention to whether someone consciously makes choices if something goes differently than planned.
Always be thinking a few steps ahead. And occasionally check: where am I? That is why companies can go broke even after a significant financing round. You were spending money without paying attention and having good plans. That has to do with focus and discipline. To make those plans and check: where are we in the plan? Otherwise, you will have spent 2 million a year later, and you will not have achieved what you wanted to achieve."
Is there anything else important to emphasize at the end of this conversation?
"That angel investing isn't just for the super-rich. You must have arranged your pension and traditional investments. Then if you have something left, you can do something in angel investing. But it's not just for the super-rich. And especially for women! 200 investing women on FundsUp is quite a lot. I also believe in making female investors and entrepreneurs more visible, as with the Equals campaign recently. That is why I am participating in this interview."